New Alfa Romeo 6C will aim to topple the F-Type
Alfa Romeo will take the fight to the Jaguar F-Type with a new Alfa 6C coupe drawing on the looks of the Maserati Alfieri concept
You've lusted after the carbon-fibre 4C and daydreamed about the 8C supercar, now prepare to want another Alfa so much that it hurts. The resurgent Italian brand is working on a new front-engined rear-wheel drive coupe, tipped to be called the Alfa Romeo 6C.
Alfa's answer to the Jaguar F-Type and Porsche 911 will be based on the Maserati Alfieri concept - shown at the Geneva Motor Show and already confirmed for production in 2016. According to our source, the 6C will follow in 2017 and our exclusive images show how Alfa's designers plan to seduce customers.
The muscular haunches and tear-drop shaped side glass will be shared with the Alfieri, but the 6C distinguishes itself with its razor-sharp front end. Combining a traditional shield-shaped grille with slender LED headlights, it will be the most aggressive interpretation of Alfa's new family face. At the rear, exhausts and tailights set at the very outer edges emphasise the 6C's width.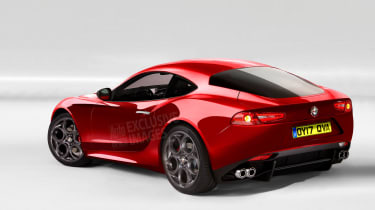 Under the skin the 6C won't be based on the same platform as the 3 Series-rivalling Giulia saloon (due in late 2015) and the mid-sized and large SUVs (due in 2016 and 2017 respectively). Instead it will use the Alfieri's underpinnings - a shortened version of the Maserati Ghibli.
Alfa 6C to get 3.0-litre twin-turbo V6 from the Ghibli
It should still deliver a thrilling drive, though, with a highly-tuned version of the Ghibli's 3.0-litre twin-turbo V6 under the bonnet (hence the 6C name). We already know this engine will produce between 480bhp to 520bhp in the Giulia Quadrifoglio Verde and we can expect a similar output here, pushing it close to Jaguar F-Type Coupe V8 R and Porsche 911 Turbo territory.
Don't expect the 6C to be built in huge numbers at a knock down price though. As with the 4C and 8C, limited to 3.500 and 500 units respectively for the coupe, and the same for the convertible versions, the 6C is strictly a "special" model with production set to be capped to just a few thousand. The 6C fills a gap in the range left by the Mazda MX-5-based Spider, due to be built in Japan and arrive in showrooms in 2015, it will now be redesigned and rebadged as a Fiat.
Read about the new Alfa Romeo Giulia Quadrifoglio Verde supersaloon that will target the BMW M3.