Alfa Romeo Giulia Veloce: UK order books open for warm Giulia
276bhp, 2.0-litre turbocharged hot Guilia, propping up the Quadrifolio, goes on sale in the UK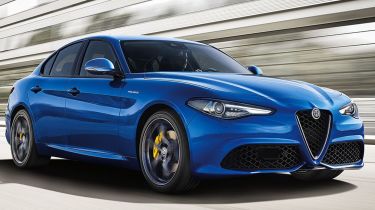 Alfa Romeo's saloon cars ought to have performance to match their stunning looks, so buyers may have been disappointed to find the new Giulia didn't have anything in between the sub-200bhp cooking models and the crazy 503bhp Quadrifoglio version.
Fortunately, Alfa Romeo has remedied this with the introduction of the Giulia Veloce. On sale now in the UK, prices for the warm Giulia start from £37,935.
The 2.0-litre turbocharged petrol pushes out 276bhp – putting it well ahead of the 197bhp version in the standard car. This petrol engine will be available across the Giulia range in the US, but in Europe it will be confined to the Veloce models.
• Alfa Romeo Giulia Quadrifoglio review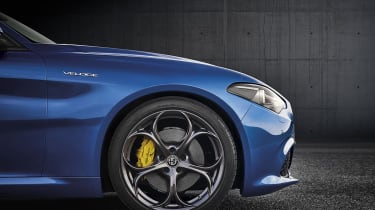 A less powerful 2.2-litre diesel with 207bhp won't be coming to the UK – but though it would offer quite an upgrade over the maximum of 178bhp available in the standard car. The diesel unsurprisingly offers more torque, though – with 470Nm, compared to 400Nm in the petrol.
Both engines are mated to an eight-speed automatic gearbox, but bigger news is the addition of a new four-wheel-drive system which Alfa is calling Q4. The system behaves like the standard rear-wheel-drive car most of the time but if the car loses traction, up to 60% of the engine's power can be transferred to the front wheels through a dedicated transfer case.
• Paris Motor Show 2016: preview
Alfa Romeo claims this new system will give the Giulia class-leading body control in the bends, but won't negatively affect fuel economy – the added weight over the two-wheel drive car is just 60kg.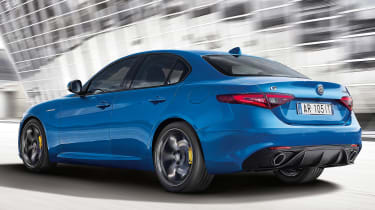 Styling-wise, the Giulia Veloce marks itself out from the crowd thanks to tweaks over the standard car. Unique bumpers front and rear mate with glossy black trim, while inside sees black leather sports seats and aluminium inserts on the dashboard, centre console and door panels. A new colour will also be shown off – the stunning Blue Misano in these pictures.
What do you think of the Alfa Romeo Giulia Veloce? Let us know in the comments below...