Aston Martin cars to be 100% hybrid by mid 2020s
Aston Martin's plan to go electric will see a quarter of its range transformed into full EVs by 2030, but petrol power will remain for now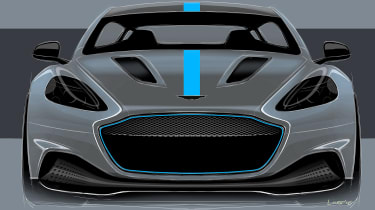 Aston Martin chief executive Dr. Andy Palmer has announced that the British sports car brand will electrify its entire product range by the mid 2020s, becoming the latest car manufacturer to pledge a hybrid and all-electric future. 
"We will be 100 per cent hybrid by the middle of the 2020s," Dr. Palmer told the Financial Times.
• Best hybrid cars on sale 2017
Earlier this year, Volvo announced that every car it intends to sell from 2019 onwards will feature an electrified powertrain, be it mild hybrid, plug-in hybrid or fully electric. According to the FT, the Aston announcement isn't quite the same as this – hybrid powertrains will be optional on every model but non-hybrid cars will continue on sale.
Aston has yet to offer customers any production model boasting an electrified powertrain, but Dr. Palmer added that the firm foresees about a quarter of its range will be fully electric by 2030. 
The first Aston Martin EV is already under development – an all-electric version of the Rapide called the RapidE will launch in 2019. The firm's DBX SUV will also land two years from now, and is expected to adopt hybrid technology at some point in its lifespan. 
While some new Aston Martin cars are set to receive Mercedes-AMG produced 4.0-litre V8 biturbo engines as a result of the technology partnership between Aston and Daimler, Palmer suggested that the firm's electric powertrain would be developed in house.
"You need to keep core technology inside the company," said Dr. Palmer. "That's why we make our own V12 engine. We believe that EVs are a core technology, and therefore we want to do them ourselves."
What do you think of Aston's electric intentions? Tell us your thoughts in the comments...