'Aston Martin will bounce back better than ever'
Aston Martin's recent money troubles have become headline news, but Steve Fowler believes this is just a minor bump in the road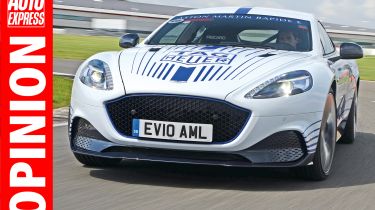 When I met up with Aston Martin CEO Andy Palmer recently, he'd had a pretty torrid time. Financial results were not what he, or the markets, wanted, resulting in a drop in share price for this newly floated company. "I've had better weeks," he admitted.
While Aston had been courting publicity in the run up to floating, the attention when things haven't been going so well has seemed even greater. Maybe that's a typically British thing – areas of the mainstream media sometimes don't seem to want to see British success.
• Aston Martin announce £78.8million loss
What has disappointed me most is the amount of vitriol that has been aimed personally at Palmer – and by one of Fleet Street's supposedly more respected titles, too. Sure, when you put yourself up there, you have to expect a fair amount of questioning. But this went too far – Palmer has always done what he thinks is best for a British car company and the UK car industry.
Incredibly, Palmer was relaxed when I met him. But then again, he's never more at home than when behind the wheel and talking passionately about product.
And it's this product that points to Aston's future – one that some commentators could do with taking a good look at. This time next year, not only will Aston's first all-electric car, the Rapide E, be with customers, but the crucial new DBX SUV will also have been launched. 
There was a camouflaged DBX tucked away in one of the garages right by us – it would have been rude not to take a look! This is a car that will change the company, boosting production and sales, and delivering crucial jobs in Wales. Beyond that is more product with sound business sense and a great deal of desirability behind it.
Aston's revival under Palmer has always been a long-term plan – as investors and commentators should realise. There were always going to be bumps in the road along the way. But from where I'm sitting, the future for Aston, its employees and its owners is still looking good.
Do you agree with Steve that Aston Martin can and will bounce back? Let us know your thoughts in the comments below...