'Aston Martin CEO Tobias Moers doesn't have to be popular, he has to deliver'
Steve Fowler gets the inside track on Tobias Moers' future plans for Aston Martin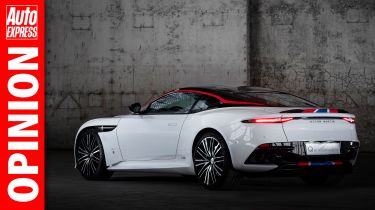 Eight months into the job, Aston Martin's new CEO Tobias Moers opened the doors to his firm's Gaydon HQ last week and gave us an opportunity to find out more on his vision for this great British brand.
His Project Horizon plan is wide-reaching, although the surprises are as much about what he's not doing as what he is.
The programmes that Moers has inherited from former CEO Andy Palmer are continuing; first Valkyrie deliveries will be later this year, while mid-engined Valhalla and Vanquish models will arrive from 2023.
They won't be powered by the planned in-house V6 hybrid, though. "What I found was a concept engine," Moers told us. Hybrid V8 Mercedes power will be used instead, to Aston's precise specifications. So will Aston be more reliant on Mercedes, but less like Mercedes in future? "Exactly, that's the task," he said.
Also canned seem to be continuation models like the DB5 Goldfinger. Moers was asked if there would be any more. "I'm not so sure," he replied.
Moers has adjusted production processes, which makes sense, as does his plan to enhance the level of luxury at every step of Aston Martin ownership, from the website, to the cars, to the service experience. Luxury is about precision and personalisation, he says: "Aston Martin as a brand stands for British luxury" .
But is he taking the rest of the Aston Martin team along with him on his vision? The word from insiders suggests he's not the most popular new boss. His silence when asked whether Astons are beautiful enough spoke volumes, as did his comment, "There's an opportunity for the future interior-wise for sure," suggesting some tension between CEO and design department. 
But Moers doesn't have to be popular; he has to deliver. Q1 results and DBX sales look strong so far, but shareholders, Aston owners and buyers, and fans will be watching closely.
For more on Mercedes' involvement with Aston Martin click here...