Aston Martin DBX model range to grow from 2021
First deliveries for new Aston DBX SUV are still on track for this summer, with further versions coming next year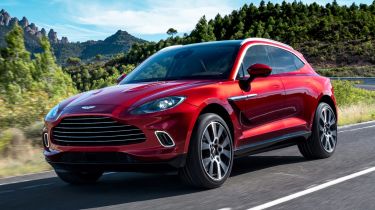 New Aston Martin executive chairman Lawrence Stroll has revealed that further variants of the new DBX SUV can be expected from 2021, a range expansion built on the back of a strong order book for the brand's upcoming Porsche Cayenne rival.
While a plug-in hybrid version of the new Aston Martin DBX is expected later in its life-cycle, this latest announcement hints that other new variants due next year could include additional bodystyles.
Rivals such as Porsche and Mercedes have launched coupe versions of their popular Cayenne and Mercedes-AMG GLE sports SUV models, but it's unknown if Aston plans to do similar with the DBX.
On a different tangent, the brand could look to the success of long-wheelbase SUVs in China for DBX range-expansion.
Speaking of the year ahead in Aston Martin's financial report for the first quarter of 2020, Stroll called the DBX "a key new product launch for us as we diversify and enter the luxury SUV segment of the market."
"Despite the temporary suspension of operations at St Athan, with the site reopened last week, we are still on track for summer deliveries and the start of full production is scheduled in the next few weeks, a testament to the strength and the measures made by the team as we prepared for this key delivery.
"The order book continues to build and extends into 2021. Building on this strength, new derivatives will be unveiled from 2021."
The new St Athan factory for the DBX has been built on a 90-acre plot in south Wales, formerly owned by the Ministry of Defence. When we visited last year, we found out that at peak production, the facility will be capable of manufacturing up to 5,000 DBX models a year.
Last week, Aston confirmed that 500 redundancies will be made across the company, as part of a "fundamental reset", which will see the brand's front-engined sports car production reduced and production rebalanced in favour of the new SUV and upcoming derivatives.
Outgoing Aston Martin CEO Dr. Andy Palmer will be replaced by former Mercedes-AMG boss Tobias Moers from 1 August as part of the company shake-up.
Check out the best luxury SUVs in the world here...