All Audis to be offered with plug-in technology
Audi has underlined the importance of electric cars in its future model line-up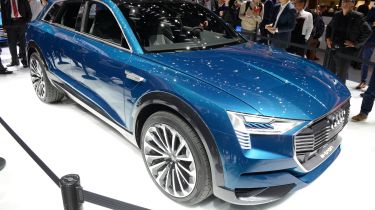 Audi has confirmed its future commitment to electric vehicles (EVs) and plug-in hybrids (PHEVs) during a round table interview with member of the board, Dr Ulrich Hackenberg.
The brand is currently investing in its new Tesla Model X-rivalling Q6 SUV – previewed by Frankfurt's e-tron Quattro concept – with European production scheduled for 2018.
Designed primarily for the US and Chinese markets, the e-tron SUV will also allow utilisation of Germany's forthcoming fast charge infrastructure, which Hackenberg says should offer drivers a usable 250-mile range in just 30 minutes.
• All the news from the 2015 Frankfurt Motor Show
It'll also debut a scalable battery solution – much like the system used by Tesla – to give buyers a choice of batteries ranging from 60kWh to 95kWh. The latter is likely to be the fastest and most expensive, but also the most efficient, offering a total electric-only range of up to 310 miles, and 0-62mph in less than four seconds.
Hackenberg said: "We'll use this car to introduce technology to our customers. We'll cover all our cars with plug-in technology. More or less every [Audi] drivetrain can be electrified."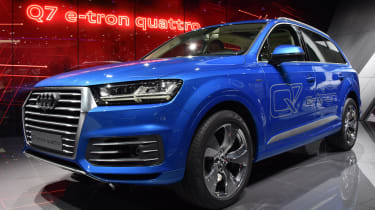 We asked Hackenberg why Audi was kicking off its pure-EV surge with such a large vehicle, and he replied: "You need a large car to realise the space of 500km (310 miles).
"Our customers want unlimited mobility", he said, saying that to get a drag coefficient as low as 0.25cd on such a large car, the brand needs to utilise technology like the active aerodynamics and virtual mirrors.
"We can't realise these features on a standard car. We're working on the homologation."
If all goes according to plan, we should see plug-in e-tron versions of the Q5, Q7 and A8 next year, with the fully-electric SUV (dubbed Q6) in showrooms by 2018.
Are you looking forward to buying an Audi electric car? Let us know why below...