Audi A1 quattro vs Audi Ur-Quattro
Technology meets tradition as the all-new Audi A1 quattro takes on the original four-wheel-drive Audi Ur-Quattro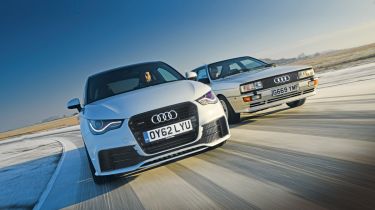 Hot hatches are as popular as they've ever been these days, but the new Audi A1 quattro is no ordinary souped-up supermini.
It's limited to just 333 left-hand-drive cars, only available in white and features the aggressive styling usually reserved for Audi's storming RS range. It also has running gear from the larger S3, giving it a combination of four-wheel drive and 253bhp turbo power that's unique in this class.
So rather than pitch the A1 against slower rivals, we're comparing it with a famous ancestor. The Quattro took Audi into motorsport in the eighties and paved the way for its modern success. And while these cars are separated by 23 years, both are hand-built, use turbo engines to power all four wheels and claim 0-62mph in under six seconds.
Today, the original Quattro is commonly known as the Ur-Quattro, and the 1989 example in this test is one of the last off the line. It gets a 217bhp five-cylinder engine, and it stands a good chance of teaching the newcomer a lesson. If the A1 can capture even a small slice of the magic that made the original car so special, it'll go some way to justifying its £40,000-plus asking price.
Verdict
Audi has made huge profits selling premium saloons in recent years, but its heart and soul still belong to high-performance four-wheel-drive sports cars like the A1 quattro and Ur-Quattro.
While the brand has drifted away from its rallying roots – towards Le Mans 24 Hours glory – its high-performance road cars retain the same heady mix of powerful engines and four-wheel-drive traction.
We're not picking a winner in this test, but both cars are clearly very special. And while we'd hoped the A1 would be a little quicker than its ancestor after 23 years' development, there's no faulting its high-revving performance or the quality finish and luxurious equipment inside.
The decision to fit so many new mechanical parts but leave the steering untouched might just come back to haunt Audi: a lack of responsiveness from the electric rack is the A1's only real weak point.
Without this fault, it would be an instant classic, and in the long term its rarity should take the sting out of its depreciation and eye-watering price.
As for the Ur-Quattro, its status as an icon is clearly deserved, as few classics could give their modern rivals a run for their money. Driving the two side-by-side was a fantastic glimpse of Audi's DNA, and we hope future limited-edition models continue to use the great Quattro as a blueprint.