Audi A4 Avant Ultra review
No doubt that the new Audi A4 Avant Ultra is green but is it also good? Find out here…
There's no escaping the fact that the Audi A4 Avant feels like an old car in some ways. However, this new Ultra version has definitely injected it with a new lease of life. It's frugal, punchy and handles well. Plus, you won't have to sacrifice looks or comfort for the privilege, either.
Audi's new eco brand is spreading through the model range and the Audi A4 is the next car to be given the Ultra makeover. With Ultra, the company aims to prove that striving for lower running costs doesn't have to mean compromises elsewhere. Nowhere is that idea truer than the A4 Ultra Avant model.
The Ultra version of the A4 Avant gets a 2.0-litre TDI with 161bhp and 400Nm. It's a strong engine that works well with the Avant estate model. There's plenty of power low down, as you'd expect, but enough at the top end to ensure it doesn't feel like it's running out of puff. The car deals with the 0-62mph run in just 8.3 seconds – underlining its performance credentials.
This latest raft of engines has also gone to prove that just because you are driving a diesel engine you don't have to put up with the rumbles of noise that often come with the package. Refinement is excellent at a cruise but it does get a little noisier when you put your foot down – it's no worse than a BMW 320d Touring, though, or even the 2.1-litre diesel in the new Mercedes C220 BlueTEC Estate.
More reviews for A4 Avant
The A4 Avant comes with a six-speed manual, which is smooth, precise and satisfying to use. The steering is as before, so while it weights up well in corners and is reassuring, there's rarely a moment of pure excitement.
The Ultra badge is reserved for those cars that are lighter on the wallet. With CO2 emissions as low as 114g/km – meaning a yearly tax cost of £30 – and a claimed fuel economy figure of 64mpg, the A4 Avant Ultra is worthy of its title.
Elsewhere, things are very much as they were with the A4 Avant. Bootspace is a spacious 480 litres with the rear seats up and 1,430-litre with them down. However, despite downgrading from the 18-inch wheels normally fitted to SE Technik cars like ours, the Ultra still doesn't look like an eco special.
Elsewhere, things are just as you'd find in any other A4. Boot space is a generous 490 litres with the rear seats up and 1,430 litres when they're down. Yet while we still like the A4's cabin, it suffers from the same problem as the A5's – compared with newer Audis, its tech feels a little old-fashioned.
With Sports suspension as standard, you could expect a firm ride, but the car is actually pretty good at soaking up rough roads. And Audi's Drive Select allows you to tweak throttle response and steering weight to help make things a bit more involving in bends – not that it'll ever be particularly thrilling.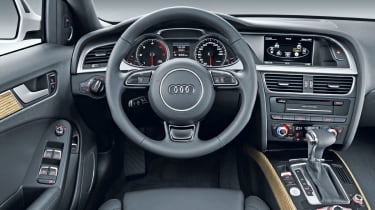 The A4 Avant is definitely in need of a refresh – a new model is due next year – but this latest engine has just given it that extra push to keep it competitive with its newer rivals.