Audi A6 2.0 TDI Ultra review
Raft of updates keeps Audi A6 Avant estate fresh... and we try cleanest 2.0 TDI Ultra diesel
Driven carefully, this unassuming Audi estate is potentially a real efficiency hero, and should appeal to cost-conscious private buyers and fleet managers alike. The entry-level A6 Avant SE also combines crisp styling and a sublime interior in a package that's still highly desirable. The refinement suffers when you demand full-bore acceleration, and it's still not an executive car that encourages you to drive quickly. But if you really want an A6 to entertain, there are other, far less frugal alternatives – such as the V8-powered S6 and RS6.
We've already highly recommended the Audi A6 Ultra to eco-minded fleet managers and family buyers alike, and now Audi has refreshed the executive model to further boost its appeal.
New LED lights with funky 'scrolling' indicators, sharper grille and sill edges, plus fresh alloy wheel designs, are all that set the A6 apart. Inside, some new trim choices and a faster processor for the MMI infotainment appear, along with a dull new lever selector that's not as cool as the old aircraft-style handle.Still, boot space remains the same, at 565 litres, or 1,680 litres with the rear seats folded via a handy single lever. That's less space than in the cavernous Mercedes E-Class Estate, but it trumps the BMW 5 Series Touring. Plus, all Avants get a standard auto tailgate.
Non-hybrid eco-specials often force you to opt for a manual gearbox to attain the best economy and CO2 numbers, but not here. The seven-speed dual-clutch S tronic might pump up the price by £1,530 to £35,845 versus the six-speed manual model, but it's even more efficient. Audi claims 64.2mpg against the manual's 62.8mpg, and CO2 emissions of 114g/km against 118g/km.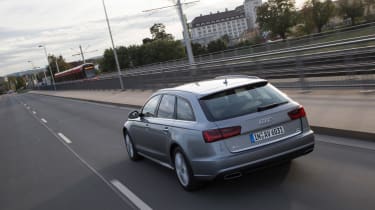 Bear in mind, too, that we're talking about a 1,750kg estate car that covers 0-62mph in 8.3 seconds (two-tenths faster than the manual) and can cruise all the way up to 144mph. The saloon is even more impressive – 67.3mpg and 109g/km is a remarkable best-in-class achievement. The sportier S line trim, with lowered suspension, bigger wheels and a smarter cabin, spoils those numbers only by a fraction.
There are yet more unseen engineering tweaks, too. Exclusive to the A6 Avant Ultra are fibreglass suspension springs that are each 1.6kg lighter than their steel counterparts. Of course, components such as this would be totally pointless if this eco A6 was dull to drive – all long gear ratios and rattly engine noise. It isn't, though; it's an Audi with VW Golf GTD power, after all.
The engine responds better if you squeeze the throttle rather than mash the pedal past the kickdown point – it overreacts if you're hasty, hunting for second or third gear and causing the four-cylinder turbodiesel to emit an unpleasant CVT-like blare.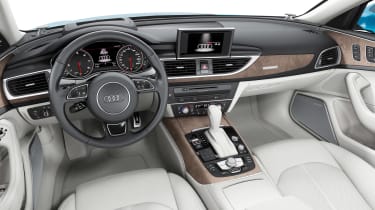 Drive more carefully and in-gear pace is perfectly acceptable, while the engine is virtually silent even cruising at 100mph on the German autobahns. Back on UK roads we expect the fibreglass springs to cope well – it's a passive set-up, and supported our A6 Avant nicely on the worst surfaces we could find along our southern German test routes.
Downsides? Well, the steering is still typically light and twirly – fine for a lazy motorway cruise, but hardly confidence-inspiring for the 'sports saloon' Audi says its 5 Series rival is.
Minor gripes such as the cheap plastic shift paddles and pointless centre console section for hiding SD and SIM card slots count against the A6 Ultra too. However, if the car you need must be efficient, this Audi is a very fine candidate.