Audi Q5 2.0 TDI Clean diesel review
Audi Q5 gets new 2.0-litre diesel engine, and could be badged as an Ultra model when it comes to the UK in 2015
Whether it arrives as Clean diesel or as the first four-wheel drive Ultra model we'll get in the UK, this powerful, quiet and clean engine suits the Audi Q5 to a tee. Some handling tweaks would have brought it up to speed with the BMW X3, but even so it boosts the Q5's appeal for its last year of production, with an all new model due in 2016.
Audi is cleaning up its saloon and coupe range with a raft of low-CO2 Ultra models, but the 'Q' models haven't escaped its attention either. The Audi Q5 has been fitted with a new 2.0-litre diesel engine, which will come to the UK in the middle of next year.
This is the same engine that powers the new A6 Ultra and it's not only more powerful than the current 2.0-litre diesel on offer, but it's also cleaner, more economical and quieter, too. We're told it could well be the first four-wheel drive model to wear the Ultra badge, though Audi are still debating whether to stick with the 'Clean diesel' name or not.
Power has been pushed up to 187bhp and torque to 400Nm - a substantial rise on the 175bhp model it will replace when it arrives. That sees the 0-62mph drop to 8.4 seconds compared to 9.0 seconds in the current 175bhp model.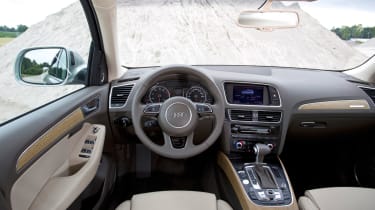 Fitted with the seven-speed dual-clutch S Tronic gearbox, that added pace is easy to exploit as it moves through the gears sharply and smoothly. Once you've dialed up a few revs and get into the meat of the torque band it feels brisk, too – there's plenty of poke for effortless motorway trips or even a back-road blast.
Despite this added pace, fuel economy and emissions have been improved from 47.1mpg and 159g/km to 49.5mpg and 149g/km respectively. What you're likely to notice more is the noise of the engine, or lack of it to be precise. Only under the heaviest acceleration does it really become audible, the rest of the time the vibrations are well isolated and all you hear is a distant hum.
Put all this together and it's a great fit for the Q5. But despite its best efforts, the new engine still, on paper at least, trails the latest BMW X3 20d M Sport auto, which boasts 190bhp, a 0-62mph time of 8.1 seconds fuel economy of 54mpg and CO2 emissions of 138g/km.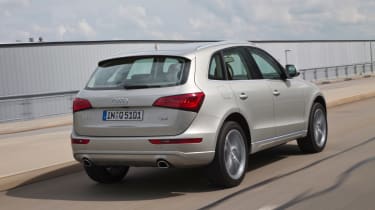 It's not only here that it falls short of its bitter Bavarian rival. With no other tweaks for the Q5, it still doesn't feel quite as sharp as the BMW to drive. However, you can't argue with its abilities as a quiet, comfortable and composed cruiser.
Some tweaks to the steering and a push to improve its figures further would have edged the Q5 ahead of its rivals, but as it is, unless you're a bit fan of the Q5's chiseled looks, the X3 is the still top of the pile.