New Audi S1 review
The new Audi S1 is the fastest ever production supermini and we've tested it on UK roads
We loved the A1 because it was everything that Audi stood for condensed in to a smaller package. Now the new Audi S1 takes that everything S stands for and packs it in to a four-wheel-drive supermini. It's quick and it's luxurious but, as with all S models, it's not the best in its class for outright fun. The Fiesta ST is still the shining light for enthusiasts – and it's much cheaper – and for just a little bit more cash you could have the much larger, more comfortable Golf GTI. The S1 is a good car, but it's not our go-to choice.
The Audi A1 was the only member of the traditional Audi family of cars not to have a sporty S variant, but that all changes from the end of May 2014 when you'll begin seeing the all-new Audi S1 on UK roads.
The Audi S1 follows a formula Audi laid out with the very first roadgoing S model – the S2 – and has firmly stuck to ever since. Understated looks and four-wheel drive are a must, along with blistering performance and sharp handling.
Performance on the Audi S1 isn't a worry, with the 2.0-litre turbocharged engine producing 228bhp. Put all that through four wheels and you arrive at 62mph from a standing start in just 5.8 seconds – that's the fastest accelerating car in this class by quite some margin.
More reviews
Car group tests
In-depth reviews
Road tests
Used car tests
A six-speed manual gearbox is the only transmission available on the Audi S1, but it feels like a good match to this car, which surges forwards as soon as you floor the accelerator. It's definitely a surprise to have this kind of firepower available in a car the A1's size.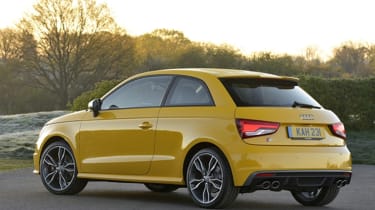 The Audi S1 doesn't sound particularly good when it's in Efficiency or Auto modes but press the standard-fit Drive Select button in to Sport and there's a deeper note from the exhaust. Sticking it in this most aggressive setting will also firm up the adaptive dampers, giving the S1 an extra edge in the bends.
If you've ever driven any other S-badged Audi, the experience will be similar to that found in the S1. It's a sensation of unflappable grip and traction, whereby you can be mid-corner, pin your foot to the floor and the car will just dig in to the tarmac, launching you round the bend fastest than you thought possible. Admittedly, it's not the most involving experience but there won't be much that's quicker point-to-point.
But, as with most S-badged model Audis, you'll find the S1 compromises the ride quality. Models like the latest Volkswagen Golf GTI show that you can have a performance-focused set-up without compromising comfort, but the S1's suspension still feels too firm. Not as bad as the Ford Fiesta ST's ride but still not what you'd call luxurious.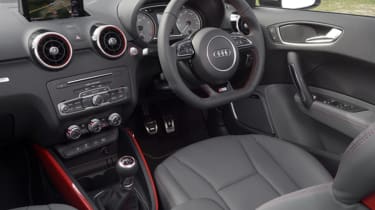 Thankfully, the cabin in the Audi S1 does live up to Audi's high standards, besting every other car of this size and many from the class above. The S1 gets its own personality, though, thanks to a stylish red-ringed start button, S-badged seats and a nice flat-bottomed S steering wheel.
When the Audi A1 first arrived, it brought all of Audi's luxury and build quality to a class that had never seen it before. What the S1 does bring, is all the pace and stability of Audi's larger S models to a price point lower than it has ever been. If you want a cheap way in to S ownership, this is it, but we couldn't help but consider the Ford Fiesta ST or even a Volkswagen Golf GTI in its place.