Adrian Hallmark: new Bentley CEO talks future products, electric cars and profitability
Bentley boss opens up to us on his plans for the British brand as it enters its 100th year.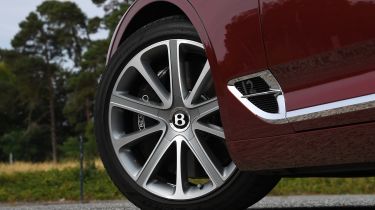 Adrian Hallmark's Twitter biog simply proclaims 'Bentley Boy Again'. Following a stint as sales and marketing boss at Bentley from 2003, he left for Volkswagen in the US and then the Far East. After a short spell at Saab he joined Jaguar  Land Rover before returning to Crewe in February as Chairman and CEO.
"I'm like a pig in the proverbial," he tells us. "But the role's not without its challenges.
He returns to Bentley with the company in the red for the first time since 2009, but is clear about the reasons why and what needs to be done to return to profitability.
"Two problems have driven us into the red," he explains. "The coupe was delayed nine months, it just wasn't ready for launch. But we'd paid for it – we'd paid all the money out, but not got any money back in.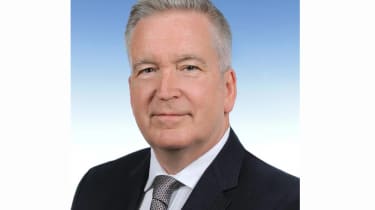 "The second factor was, just when we thought we had the GT right and production flowing, WLTP comes along so we had further delays."
With an honesty that has endeared him to the workforce, he admits that Bentley wasn't prepared for WLTP. But he's also honest about what the future holds.
"Next year we have to be back in the black. The coupe will be flowing, the convertible is coming, Bentayga will be on full chat with the V8 and the hybrid – that's been delayed because of WLTP, too – should be here in the first half of next year, maybe even first quarter."
The first Bentley electric car
Hallmark tells us that Bentley's first fully electric vehicle will be with us by 2025 at the latest, but until then it's about making every model available as a plug-in hybrid.
"We could've done something off Porsche's Mission E and it would've worked, but that's not what I want from Bentley," he says. "So we want to wait until the battery technology works for the types of cars that we build. In the meantime we'll go hybrid and performance hybrid. Mid 2020s is when we think the technology will meet the needs of the bigger cars we need to build."
He promises a decent range from the hybrids, though: "A 30-mile range plug-in hybrid is very transitional. But a 60- or 70-mile hybrid starts to get interesting. We want to create a package that works and gives real customer benefit."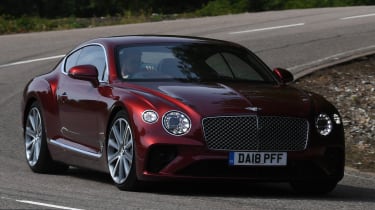 A self-driving Bentley? 
So electrification is coming, but Hallmark says Bentley customers don't want autonomous cars. They appreciate the safety benefits of advanced driver assistance, so the company won't lead on that driverless technology but it is working hard on 5G and new connectivity systems.
He also sees real benefit for the Bentley brand beyond cars. "We're doing 26 Bentley designed apartments in the Porsche Tower in Miami and a fleet of Bentleys to be used on demand. There's the Bentley home collection – we're getting into architecture, furniture as well as the jewellery business – our relationship with Breitling has just been renewed.
"But mobility and providing people who don't buy cars the opportunity to experience the brand in the right way I think there's huge potential."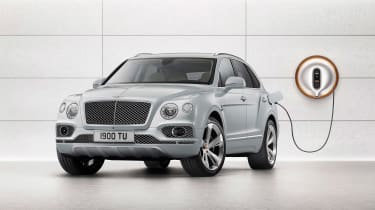 More Bentley special editions
The cars will remain the core business though, with Hallmark promising one new launch every year.
Partnership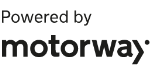 Need to sell your car?
Find your best offer from over 5,000+ dealers. It's that easy.
"We don't do enough limited or special editions, slightly different body styles or limited run cars," he admits. "We've got to do more variation on what we have and we'll use Mulliner to do that.
"Then in terms of bodystyle, Bentayga we will facelift it in the not too distant future. We can innovate with Bentayga and we will. I can't say how, but you can work it out probably."
"We'll also add at least one nameplate in the future, and that will probably be as the transition between conventional products and battery electrical products."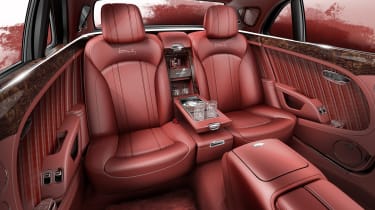 100 years of Bentley 
But what about the big birthday coming up? "The centenary is very important," says Hallmark. "We've got the WO centenary editions, one for each model in the year and something special in the middle of the year."
He wasn't wrong when he said there were some challenges ahead. "My business is to step the business up a notch," he says. "Make it sustainable by electrifying everything as fast as we can, get the first BEV in as quick as we can and start the development of the non-car activity."
We've no doubt that with this Bentley boy back and at the helm, this great British brand's second century is shaping up to be even more exciting than its first.
What would you like to see from Bentley in the future? Let us know in the comments...