"The Bentley Bentayga is brilliant but at this price, it should feel unique"
Editor-in-chief Steve Fowler explains what Aston Martin and Rolls-Royce's forthcoming luxury SUVs can learn from Bentley's Bentayga.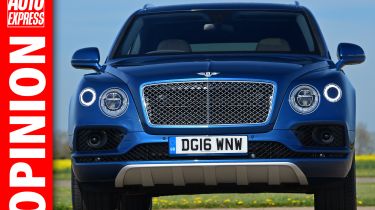 Bentley's new Bentayga is a sensational machine. I've been lucky enough to spend a few days (and drive a few hundred miles) in one and have enjoyed it tremendously – it is without doubt the finest sporting SUV with some of the most exquisite detailing in design and finishing that I have ever seen. It's simply stunning.
But is it the world's greatest luxury SUV? Sadly not. For me, that honour goes to the Range Rover. How can that be?
Let's just concentrate on the Bentley first. It is jaw-droppingly quick. Well if your mouth is even slightly open, the acceleration of the 600bhp W12 engine will force it open wider. This is an astonishingly fast car – faster than any SUV has a right (did I hear someone say need?) to be.
• Bentley Bentayga vs Range Rover
It's also beautifully refined – hushed beyond belief at times – while the ride when cruising is as it should be in a Bentley, soft and mellow.
Then there's the quality of the interior – it's simply peerless with leather stitched, chrome knurled and veneer polished in a way that only Bentley's craftsmen know how. There's plenty of tech on board, too, from active cruise control to Apple CarPlay – all essential in the modern Bentley. Oh and a great sound system.
In short, I love the Bentley Bentayga and will be deeply envious of those who buy one. But if I had £160,000 to spend on a luxury SUV, I'd buy a Range Rover – for one simple reason: it feels more bespoke. Not in a fixtures, fittings and trimmings way, but because there is nothing else that gives you the same overall experience.
• Bentley Bentayga Speed models on the way
The Bentley, brilliant thought it is, is based on a platform that already underpins the Audi Q7 and will form the basis of the next Porsche Cayenne. The Range Rover sits on its own: upright, majestic, spacious and with a design spirit that is the epitome of modern British cool. It makes the Bentley feel a little bit like a pastiche of British design; the Bentayga is the old red phone box, the Range Rover is the latest smartphone.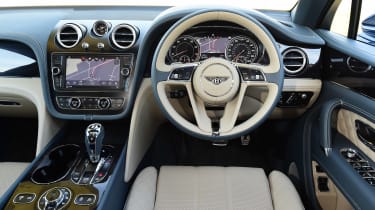 Bentley's designers and engineers have been constrained by certain hard points imposed upon them by a VW group platform. Which means the Bentayga feels very much like a Q7 from behind the wheel, if not in the finishing.
In the Range Rover you sit higher, you get a better view out and you look down on most other road users, literally and metaphorically. It gives you more of a feeling of space – and for many space equals luxury.
Sure the Bentayga runs rings around the Range Rover when it comes to driving dynamics. But what's the point of a sporty SUV (and yes, I know SUV stands for Sports Utility Vehicle)? You simply can't defy physics – the Bentayga is a tall, heavy vehicle as all SUVs are. It will never be as good to drive as a Continental, Flying Spur or Mulsanne. So why spend so much effort trying?
Personally, I'd rather trade some of that ability (which will rarely get used) for a bit more comfort around town and on the school run. The Range Rover is a more comfortable car to live with day-to-day, if not as fast or as exhilarating to drive.
Clearly there are business reasons for Bentley to share a platform with its brethren, but I would dearly love to know what a Bentayga designed free from any of those restrictions would be like. That really would be some car.
And herein lies the message, warning if you like, to Aston Martin and Rolls-Royce and their forthcoming SUVs. At the price you'll be charging, it has to feel like nothing else – for me that's the true definition of luxury: a bespoke, exclusive experience. And that's why the grand old Range Rover currently stands tall – there really is nothing else like it.
What do you think of the Bentley Bentayga? Joint the debate on Twitter, on Facebook or in the comments section below...