Bentley considering bespoke coachbuilding division
Bentley is weighing up possibilities for a bespoke division, building one-offs at the request of its wealthiest clients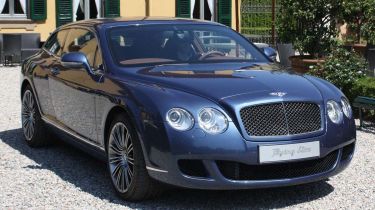 Bentley could be returning to its coachbuilding roots with a new division of the company dedicated to one-off models, built to customer's exact specifications. Catering for only the wealthiest clients, it's an avenue Ferrari and McLaren have explored recently with the F12 TRS and X-1 respectively.
"Go back to the beginnings of our company, we built the chassis and customers put their body of choice on top. At one point there were 50 coachbuilders in London alone," Kevin Rose, Bentley's member of the board for sales and marketing, explained.
"I love that idea, it's like Haute Couture for a car, I think that's fascinating to take things a step further and make a car specifically for you," he added. "Technically it's possible and the cost is irrelevant, even if it was up to £5m. We have to work out if it's feasible, but we're interested in the concept."
We asked Rose what would happen if a customer approached him with £5m and an idea for a unique Bentley, tomorrow. "It would depend on what they wanted, and the legislation where they live. The Middle East is fairly relaxed, for example, whereas Europe is far more strict," he replied. "We've started to look at this more seriously in the next year or so, but we're not at the stage to say yes or no yet."
Of course, there are coachbuilding companies out there already who will build you a bespoke version of an existing car. Pininfarina crafted the Hyperion, based on the Rolls Royce Phantom Drophead Coupe, for a well-heeled collector in 2008, while Touring Superleggera created the Bentley Continental Flying Star (pictured) in 2010 – essentially a shooting brake conversion of the Continental GT. But by bringing the service in house Bentley would be able to boost profits in a total luxury car market with modest growth projections.
"The total car market is 60m cars a year, of that our bit is about 50,000 cars and not all of those will buy a Bentley," Rose said. "The total market won't grow much over the next few years – we're hoping for modest double digit growth – until the SUV comes along and then we'll see some more model driven growth. For now though some markets like the Middle East are growing well, but others such as China are flat."