Best company cars £25,000 to £35,000
Here are the best company cars between £25,000-£35,000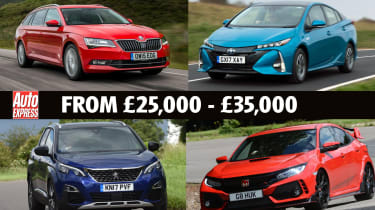 Skoda Superb Estate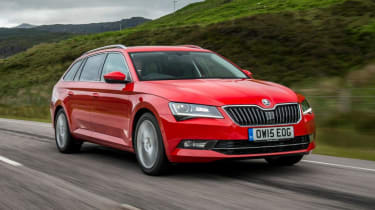 Model: Skoda Superb Estate 1.5 TSI SE L ExecutivePrice: £28,155Engine/power: 1.5-litre 4cyl/148bhpCO2/BiK band: 125g/km/29 per cent0-62mph/top speed: 8.8 secs/130mphMonthly BiK Bill high rate: £270Monthly BiK Bill low rate: £135
It's a past winner of our Best Estate award, so it's probably little surprise that the load-lugging Skoda Superb makes it into this list of the best company cars for the new tax year.
SUV buyers have switched their focus towards petrol engines, and the 1.5 TSI engine that features in the Skoda Karoq is also a strong pick with BiK in mind here. That's because it emits just 125g/km of CO2 and has an affordable P11D price – even in SE L Executive trim, which gets everything you'd realistically need. So there are few cars on the market that can offer this much space and practicality for such a relatively small outlay.
You get a big 660-litre boot, a powered tailgate and heated leather seats. The Superb also has a 9.2-inch infotainment system with Apple CarPlay and Android Auto, plus sat-nav with 3D maps, as well as a WiFi hotspot. Keyless operation, climate and cruise control, and lots of safety tech feature, too. So this will be dependable family transport, and a reassuring car if you cover plenty of miles with work.
Hyundai Kona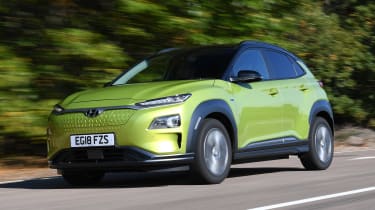 Model: Hyundai Kone Electric 39kWh PremiumPrice: £28,720Engine/power: Electric motor/134bhpCO2/BiK band: 0g/km/16 per cent0-62mph/top speed: 9.7 secs/96mphMonthly BiK Bill high rate: £172Monthly BiK Bill low rate: £86
Although the BiK tax for EVs has jumped by three percentage points for this new year, they're still one of the most cost-efficient ways of running a company car.
For example, this Hyundai Kona will cost you just £172 per month if you pay income tax at the higher rate. An equivalent SUV like the Peugeot 3008 in this bracket would cost you £244 – or £864 more annually.
Hyundai claims a range of 180 miles on a full charge, and it'll take around 75 minutes for an 80 per cent top-up with a rapid charger. Using a wallbox will push this to six hours, but that's fine overnight. The Kona is simple to drive, while the performance will surprise you. Space for four, a 334-litre load bay and lots of equipment should also make life easy.
Honda Civic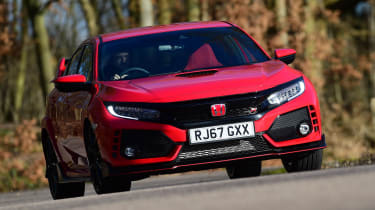 Model: Honda Civic Type R GTPrice: £33,525Engine/power: 2.0-litre 4 cyl/316bhpCO2/BiK band: 178g/km/37 per cent0-62mph/top speed: 5.8 secs/169mphMonthly BiK Bill high rate: £403Monthly BiK Bill low rate: £201
Most company car buyers might not consider a hot hatch, but if you do, then you should go for the best. The Honda Civic Type R in GT trim blends 316bhp from its 2.0-litre turbo with a chassis that offers grip, poise and a surprisingly supple ride.
Look past the interior – the quality is fine and there's decent space, even if the technology lags behind rival models' – and all that practicality on top of the strong performance makes this an appealing overall package.
The GT version gets more safety kit than the regular Type R, as well as sat-nav, so we'd opt for this model. And because its price won't break the bank, nor will the company car tax. Besides, it's a small amount to pay to enjoy one of the best performance cars on sale.
Peugeot 3008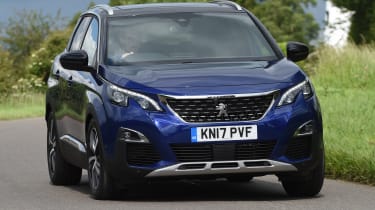 Model: Peugeot 3008 PureTech 130 AllurePrice: £26,375Engine/power: 1.2-litre 3 cyl/129bhpCO2/BiK band: 120g/km/28 per cent0-62mph/top speed: 9.5 secs/117mphMonthly BiK Bill high rate: £244Monthly BiK Bill low rate: £122
The 3008 is an example of how an SUV done right can be so much more appealing than an ordinary hatchback. Compared with Peugeot's 308, this car is even more practical, smarter inside and packs just as much tech, thanks to the second-generation i-Cockpit layout, with its digital dash and eight-inch touchscreen.
Under the skin is Peugeot's EMP2 platform, so the 3008 blends comfort with a decent driving experience; fast steering from the small wheel helps the French SUV change direction quickly, even if it suffers from body roll.
The cabin marks a big step up in quality for Peugeot, while our favourite Allure spec features sat-nav, as well as Apple CarPlay and Android Auto connectivity. Meanwhile, the great safety kit includes autonomous braking and blind-spot detection with lane-keep assist. The car is roomy enough, too, and the 1.2-litre engine is strong and economical. We've seen more than 40mpg, while CO2 emissions of 120g/km keep costs down.
BMW 3 Series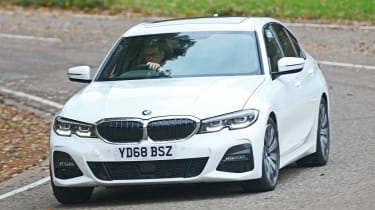 Model: BMW 320d SEPrice: £33,610Engine/power: 2.0-litre 4cyl/187bhpCO2/BiK band: 115g/km/31 per cent0-62mph/top speed: 7.1 secs/149mphMonthly BiK Bill high rate: £345Monthly BiK Bill low rate: £172
After our test late last year, the BMW 3 Series went straight back to the top of its class – and for good reason. In 320d SE form, it's still king of the junior exec market, thanks to a refined and punchy 187bhp 2.0-litre diesel engine and CO2 emissions of 115g/km.
SE trim might be the most basic in the line-up, but it's far from sparse. You get autonomous braking – great for anyone who'll be spending a lot of time on motorways – as well as adaptive LED lights. Also standard are BMW's Live Cockpit Plus with sat-nav and a digital dash, cruise control, parking sensors and a reversing camera.
The real treat is how the BMW drives. On 17-inch alloy wheels the suspension is compliant and gives the body control the brand has become known for; the 320d is the most agile, the most comfortable, the most refined and now the most technologically advanced exec, too. It does everything a junior saloon should, with a larger, roomier cabin for this latest car and a 480-litre boot.
Toyota Prius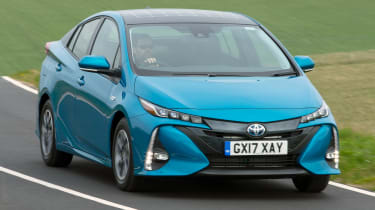 Model: Toyota Prius Plug-in Business Edition PlusPrice: £31,695Engine/power: 1.8-litre 4cyl, electric/120bhpCO2/BiK band: 28g/km/16 per cent0-62mph/top speed: 11.1 secs/101mphMonthly BiK Bill high rate: £169Monthly BiK Bill low rate: £84
If you're not yet ready to take the plunge and go full-electric, a plug-in hybrid is a good alternative; it'll give zero-emission running in built-up areas, while the flexibility of a petrol engine mixed with electric motor assistance makes for low running costs. Plug-ins like this Prius attract the same BiK rate as a full EV – as demonstrated by the costs of £169 per month for higher-rate taxpayers.
Toyota has developed its hybrid Prius over decades and it added a plug-in variant a few years ago to give even better economy. It still suffers from the same shortcomings as the rest of the Prius range – notably its poor infotainment – but Business Edition Plus spec does at least get plenty of kit.
It could be more practical – there's only seating for four because it has a larger battery pack than a standard Prius – but as a car to cut your motoring costs the Prius Plug-in takes some beating. Recharge times of less than 2.5 hours are respectable and 34 miles of all-electric range means many people could commute without using a drop of fuel.
Best company cars by price bracket
• Best company cars £25,000 to £30,000