Top 10 best cars for infotainment, connectivity and electrics
Driver Power asked UK new car buyers what they thought of their cars' connectivity and tech, here are the top 10 highest rated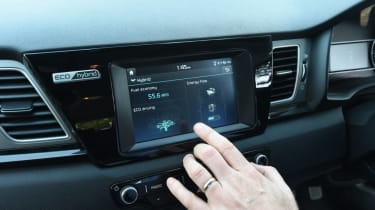 Winner: Kia NiroIncorporated subcategories: Audio/entertainment system, smartphone connectivity, built-in sat-nav, heating, ventilation and AC system, user-friendliness of controls and switches, visibility, sensitivity of touchscreen display
Kia has secured top spot in the Infotainment, Connectivity and Electrics category for the second survey on the trot. Last year, it was the Cee'd leading the way, and this time round it's the Niro.
Owners are most impressed by the car's audio system, giving it the highest rating in the survey. Apple CarPlay and Android Auto are standard across the seven or eight-inch touchscreens, so drivers are very pleased with mobile phone connectivity as well.
And the Niro isn't the only Kia in the category top 10; the Sportage SUV also features. In fact, the whole table proves that you don't have to spend premium money to get the best infotainment, with cars like the Nissan Juke, Honda Civic and Ford Kuga joining the Kias in outscoring far pricier models. The sat-nav sub-category is always tough for manufacturers, and this year the Honda Civic achieved the highest score here.
Your view
"Touchscreen is very sensitive. Ability to zoom map with a knob is a big plus"
Top 10 best cars for infotainment, connectivity and electrics