Top 10 best cars for infotainment, connectivity and electrics
Driver Power asked UK new car buyers what they thought of their cars' connectivity and tech, here are the top 10 highest rated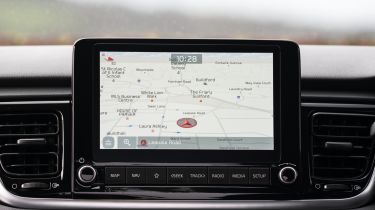 Covering: Audio and entertainment system, smartphone connectivity, built-in sat-nav, heating, ventilation and air-con, user-friendliness of the controls, visibility and sensitivity of the touchscreen displays, balance of touchscreen and physical controls
Winner: Kia Rio
Score: 92.91%
Of all the categories in our survey, infotainment covers a wider range of specific characteristics than any other, so the model that wins here has to perform well over a broad range of criteria. The Kia Rio, which topped the category this year, came second overall in the survey, so it certainly falls into that camp, and infotainment is one of its strongest suits.
Owners ranked it higher than any other car for the visibility and sensitivity of its touchscreen, as well as the balance between physical and touchscreen controls – the latter a new-for-2021 area that owners tell us is of key importance. The Rio was also lauded for the quality of its built-in sat-nav, while the infotainment system was easy to use, with some owners remarking that despite not considering themselves tech-savvy, they liked and used the Rio's various features. The effectiveness of the heating and air-conditioning system was praised too, and owners also said it was easy to establish a stable and clear connection between the infotainment system and their phones.
Your view
"The infotainment system has all the features I require, plus the stereo is perfectly adequate for my needs when I listen to the radio."
Infotainment, connectivity and electrics top 10
Infotainment

Model

Class

Overall Position

Overall Score

Category Score

Kia Rio

Supermini

2

92.16%

92.91%

Hyundai Kona

Small SUV

1

92.35%

92.88%

Dacia Duster

Small SUV

16

89.86%

92.21%

Volkswagen T-Roc

Mid-Size SUV

24

88.89%

92.02%

Mazda CX-5

Mid-Size SUV

3

91.65%

91.67%

Kia Sportage

Mid-Size SUV

9

90.51%

91.38%

Ford Kuga

Mid-Size SUV

19

89.35%

91.15%

SEAT Ateca

Mid-Size SUV

10

90.40%

91.08%

Vauxhall Grandland X

Mid-Size SUV

7

90.85%

90.93%

Audi Q3

Premium Small SUV

22

89.24%

90.80%
Click here to tell us about your car in the Driver Power survey...