The top ten best cars for ride and handling
Driver Power asked UK new car buyers about their cars' ride and handling, and these are the top ten highest rated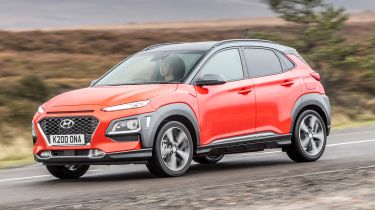 Covering: Responsiveness of the steering, braking responsiveness and effectiveness, ride quality and smoothness, road handling, driving pleasure
Winner: Hyundai Kona
Score: 94.70%
​​​​​​As the overall winner of the 2021 Driver Power new car survey, it makes sense that the Hyundai Kona would bag a category win. In fact, owners of the crossover ranked it higher than any other car in the competition for its ride and handling.
The Kona got a better score than any other model for the responsiveness and effectiveness of its brakes. This was partly down to the regenerative braking system on the electric model, which owners often commented about, saying it brings the car to a very smooth, gentle stop with the greatest of ease and adjustability.
You also told us the Kona feels solid and as such inspires confidence on the road, with a ride that copes well with the rough, pitted tarmac that is unfortunately common across the UK.
Overall, Kona owners feel the car is very well balanced in terms of the way it drives. It's extremely comfortable on longer journeys, but is also agile and sharp enough to deal with twisty roads without any fuss, and actually be enjoyable when its driver decides to push it a bit.
Your view
"My Kona is comfortable and easy to drive. Especially noticeable is the way it doesn't induce fatigue on long journeys as much as other cars I've owned."
Ride and handling top 10
Model

Class

Overall Position

Overall Score

Category Score

Hyundai Kona

Small SUV

1

92.35%

94.70%

Toyota RAV4

Mid-Size SUV

4

91.07%

94.61%

Mazda CX-5

Mid-Size SUV

3

91.65%

93.63%

Lexus NX

Premium Mid-Size SUV

13

90.15%

93.32%

Kia Rio

Supermini

2

92.16%

93.02%

Kia Sportage

Mid-Size SUV

9

90.51%

92.95%

Toyota Corolla

Compact Family Car

32

87.97%

92.63%

Ford Kuga

Mid-Size SUV

19

89.35%

92.62%

Skoda Kodiaq

Large SUV

6

90.92%

92.57%

Vauxhall Grandland X

Mid-Size SUV

7

90.85%

92.14%
Click here to tell us about your car in the Driver Power survey...