'BMWs are set to look a lot more interesting'
Editor Graham Hope thinks many petrolheads are tired of the 'Russian doll' approach of some premium brands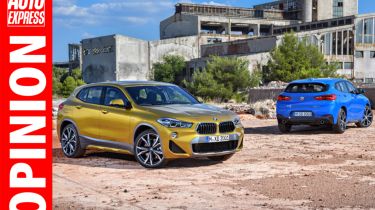 A few years ago, I asked a leading car designer to tell me which companies he particularly didn't rate in his field of expertise. His response was immediate and emphatic: "BMW."
Creating the Ultimate Diving Machine is one thing, but making it look distinctive has not always seemed to be a priority for the German company.
But times are changing. In the past few months, the edgy X2 and stunning 8 Series concept have been revealed, to general acclaim. We've also seen the X7 concept, which was more polarising but at least demonstrated an intent to be different.
And there is a new head of design, Jozef Kaban, whose CV includes the likes of the Bugatti Veyron and Skoda Kodiaq. At the recent Detroit Motor Show, I was the first journalist in the world to interview him and hear his vision for the brand.
From the outset it is clear that Kaban is a BMW fan, which is encouraging. "The M1 was a very cool car that was on my bedroom wall as a child," he told me. But Kaban is a realist, too, and knows that BMW's ongoing sales success means there is no need for an instant design revolution.
Nevertheless, he senses potential for change. "We have a huge spectrum of cars – a big portfolio. There is an opportunity to make the range even more recognisable from each other," he said. This will please many petrolheads, who are tired of the 'Russian doll' approach of some premium brands.
He believes more separation makes sound business sense, too. "Similarity is not wrong. But the bigger the spectrum is, the more opportunity you have to talk to more tastes and more people.
"BMW knows if you want to be successful in the future you always have to be ready to surprise." If he really can deliver on this, it's going to be fascinating watching him reshape the firm's range.
Interested in learning more about BMW's history? Then read our interview with Ian Robertson: the Brit inside BMW.