BMW 3 Series - best executive cars
The new BMW 3 Series is difficult to criticise, combining superb practicality and driving engagement in a familiar package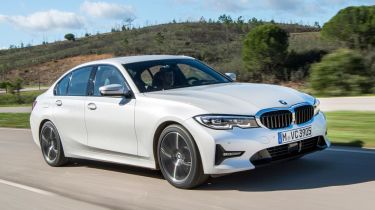 The BMW 3 Series somewhat lost is vice-like grip on the compact executive car segment over the past few years thanks to tough competition from the Jaguar XE, Mercedes C-Class and Audi A4. 
But the recently launched seventh-generation 'G20' has been a return to form, scooping our 2019 Compact Executive Car of the Year in the process. The new 3 Series is a noticeable improvement over the old one, with driving dynamics taking centre stage. 
If you want an engaging drive from your saloon, the 3 Series has been the default choice for decades. The new car builds on this by reducing weight by up to 55kg and increasing rigidity up to 50 per cent. Despite being larger than its predecessor, the new 3 Series is even more agile and nimble in the bends. 
Ride comfort is on par with the Mercedes C-Class, thanks to newly developed damper technology. The 3 Series is exceptionally smooth at motorway speeds with little road noise entering the cabin. 
There are two gearboxes, a six-speed manual (only offered in the 320d) and an eight-speed ZF automatic. The automatic is silky smooth during shifts and the manual is a big improvement over the slightly notchy change of the previous generation. 
Four engines are available and each offer a decent amount of performance and efficiency. The 320d will likely be the most popular and it's easy to see why with its 187bhp and 6.8 second 0-62mph time. Depending on trim, the 320d will return 49.6 and 56.5mpg on a WLTP cycle. For the performance minded, there will be an M340i, providing a meaty 369bhp and a 0-62mph time of just 4.4 seconds. 
Despite a focus on making this 3 Series a better driving machine, BMW hasn't forgotten about practicality with more legroom and headroom for rear passengers. The boot stays at a competitive 480 litres.
Best executive cars to buy 2019