Alfa Romeo Giulia - best executive cars
Rear-wheel drive fun, Italian styling and a great engine range help make the Alfa Romeo Giulia one of the best executive cars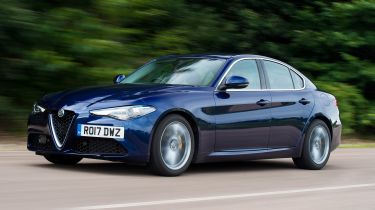 If looking good ranks high on your list of priorities for an executive car, then the Alfa Romeo Giulia will be near the top of the pile. That said, the Giulia is no disappointment when it comes to running costs and refinement either.
UK buyers will have to be happy with an automatic as the manual isn't on offer on our shores. The pick of the engine range is the 2.2 JTDM-2 diesel, which comes in two power outputs: 148 or 178bhp. Most importantly it feels keener to rev than the diesels in its German rivals, while it does lack the huge lump of torque at the bottom end the boys from Dutchland promise.
The interior is a great improvement over Alfa saloons of old, with good-quality materials and slick design helping give an upmarket appeal – even if it falls just shy of the Mercedes C-Class and Audi A4. While there is only a saloon variant on offer right now, Alfa has not ruled out the possibility of an estate arriving in future.
The Giulia has a 50:50 weight distribution, thanks to aluminium in the chassis and carbon fibre driveshafts. The suspension is double-wishbone at the front and multi-link at the rear, which means drivers can have a great time in the twisties.
Best executive cars to buy 2019