Jaguar XF - best executive cars
The Jaguar XF is a great executive car, and a worthy rival to the BMW 5 Series and Audi A6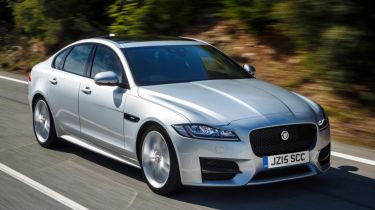 The Jaguar XF is a handsome-looking, good-to-drive executive saloon that offers something different to the German models that dominate the sector. The cabin design is smart, but the touchscreen and navigation system are a bit dated. 
The Jaguar XF is poised and agile when on a twisty country road, and the steering is quick and well weighted too. There's plenty of grip, but the XF does suffer from body roll on its soft suspension – although it's well balanced and has good feedback through the wheel. The standard eight-speed automatic gearbox is responsive and smooth.
Unfortunately, the low-speed ride is fidgety and uncomfortable, but comfort improves the faster you go, while wind and road noise are well isolated. The BMW 5 Series or Mercedes E-Class are quieter on the motorway, but the XF still cruises effortlessly.
Best executive cars to buy 2019