Mercedes E-Class - best executive cars
The Mercedes E-Class is up there with the very best in the compact executive saloon class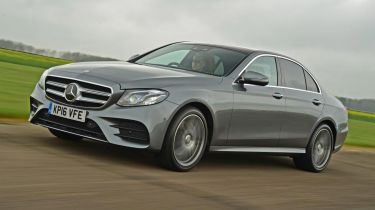 The latest E-Class arrived in 2016, and put simply is one of the best cars Mercedes has ever produced. The E-Class comes with a high level of technology and its premium feel ought to be enough to make you think twice about whether you really need to step up to an S-Class.
On the outside, it's fair to say Mercedes hasn't strayed far from the standard formula - the design is evolutionary rather than revolutionary, and could easily be mistaken for its larger or smaller siblings, the S-Class and C-Class. A sleek estate version, coupe and convertible are available for those wishing to stray from convention.
Inside is where the big news is. Only base-spec models get any analogue gauges - above that, it's LCD displays all the way. Two 12-inch screens display all the information you could possibly want. Refinement is also top-notch, while the S-Class-inspired technology should make the E-Class incredibly safe and easy to live with.
With all the technology on the inside, it's almost easy to forget about what's under the bonnet – but an excellent range of new diesel engines is likely to top the sales charts. Suspension and handling is biased towards comfort, and the E-Class is a relaxing car to travel in.
Best executive cars to buy 2019