Volvo S90 - best executive cars
The Volvo S90 is a worthy rival of the Mercedes E-Class, Audi A6 and BMW 5 Series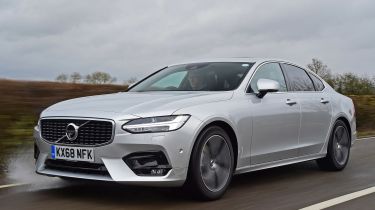 Big Volvos have long been top executive choices, but in recent years the company's larger cars haven't lived up to their reputation. Thankfully, Volvo is back on form with the S90, and it's a fantastic car which is a genuine alternative to large executive saloons.
The S90 is an imposing car, with styling lifted from the XC90 SUV – that means distinctive 'Thor's Hammer' headlights, and a bold and upright grille. The interior has been largely taken from that car too, which is great – it's effortlessly stylish, great quality, and a wonderful place in which to sit. The comfy seats help, too.
The S90 is available with a pair of four-cylinder diesel enginesbadged D4 and D5, and there's a T8 Twin Engine plug-in hybridmodel available, too. The diesels are the best option if you don't have the ability to plug the T8 into charge the battery, as they're fairly powerful and very efficient thanks to clever electronic turbocharging technology.
Best executive cars to buy 2019