Tesla Model 3 - best executive cars
We waited years for Tesla to release the Model 3 and it didn't disappoint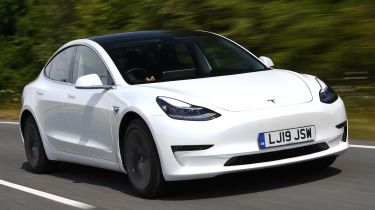 Not only did the Tesla Model 3 win Best Electric Car of the Year at the 2019 Auto Express New Car Awards, it took home Car of the Year as well. 
If you think about the industry-leading technology featured on the Model 3 and the way performance, style, and practicality are packaged in an electric car for the first time, the abundance of awards is not surprising. 
As with all electric cars, range is the most queried stat. With up to 348 miles, the Model 3 should quell any range anxiety and will be enough to deal with most lifestyles. The Standard Range version is our pick as it's the cheapest, but its 180kW motor is good for 254-mile range and a 0-60mph time of 5.3 seconds. While this is enough to surprise many focused sports cars, the Performance version jolts from 0-60 in an incredible 3.2 seconds. 
It's not just acceleration and range where the Model 3 excels. The quietness of the electric motor and the relatively well-judged damping make for a refined ride, despite the Model 3's considerable heft. The steering isn't as accurate as a BMW 3 Series however, and it just comes up short of the German car in terms of sheer driving fun. 
The interior is futuristically minimalist and is a refreshing approach to the clutter of having dozens of buttons, though some might call it dull. There's plenty of space inside with plenty of headroom in both the front and rear. The big windows also help with the feeling of airiness in the cabin. When coupled together, the front and rear boots total 425 litres - 55 litres smaller than a 3 Series. 
Fans of old-fashioned buttons won't like the 15-inch infotainment screen which controls every conceivable function on the Model 3. The infotainment system itself is different to most other manufacturer's designs and takes some getting used to, but it's intuitive and responsive.
Best executive cars to buy 2019