Pay for parking from your car with BMW's new RingGo app integration
BMW drivers can now use their infotainment systems to pay for parking without the need for a phone or cash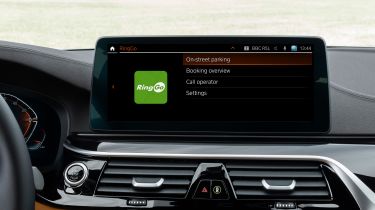 BMW has teamed up with RingGo to launch a new integrated park and pay application for the iDrive system, available for download in around 150,000 BMWs on British roads today. 
The app is available on BMW models running an iDrive 7 infotainment system or newer, and allows drivers to pay for parking via the car's infotainment screen, without the need for an extra smartphone app or cash.
Those with the RingGo app will no longer need to use payment machines and automated phone payment services. Where paying for parking via the RingGo service is accepted, they'll be able to do so directly via the car's infotainment display. 
The new RingGo payment app will be automatically installed with an over-the-air update on every BMW built after July 2018 iDrive Operating System version 7 or later.
Chris Hollis, ConnectedDrive & Technologies Product Manager at BMW said: "We are delighted to have worked closely with RingGo to give our customers an intuitive, helpful experience that brings all of their parking needs together in one place."
Peter O'Driscoll, UK Managing Director for RingGo, said: "This partnership with BMW has truly been a joint venture with motorists at the heart of the solution. 
"It is another demonstration of the rapid evolution of integrated motoring, parking and mobility services."
Hungry for more BMW news? Read all the latest on the new BMW 4 Series Gran Coupe by clicking here…