Deal of the Day: £300 off award winning Pure Advance Electric Scooter
A chunky 45% saving on an e-scooter with a 25-mile range is our deal of the day for 7 November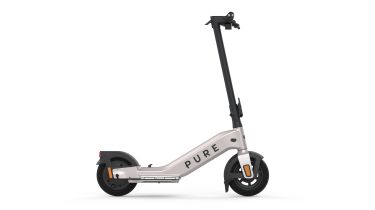 Save £300 on the RRP
Long range of up to 25 miles
Not legal for road or pavement use
Today's Deal of the Day comes from Pure Electric with a saving of £300 on the Pure Advance 2023 Electric Scooter, taking it down to a tempting £499.99. 
Be warned, however, e-scooters remain controversial and privately owned ones are currently illegal to use on public roads and pavements in the UK. E-scooters like this are meant to be used on private land like camp sites, commercial properties or race tracks. Riding them on the pavement or highway could mean you end up in trouble with the police. 
That said, this Pure Electric model is up with the very best e-scooters around. Featuring a fold-down footplate on either side of the frame and self-centering steering and wide handlebars, the Pure Advance was recently crowned as the winner in our electric scooters group test. The 37 volt battery helps it travel 25 miles on a charge and hit a top speed of 15.5mph, making it ideal to zip about environments like race paddocks or industrial sites.
Other key features of the Pure Advance electric scooter include a foldable chassis constructed of a lightweight aluminium alloy and weighing in at 16.2kg with a maximum carrying load of 120kg. Charging from empty can be done in around 6 hours and the 710W (peak) motor can conquer a hill gradient of up to 19%. The Pure Advance is IP65 waterproof rated, making it suitable for riding in the rain and through puddles too.
If you're interested in looking for an e-scooter, our best electric scooters group test has all the information you need about the Pure Advance electric scooter and how it compares to its rivals. Alternatively, for those who need to travel further, there are some great city cars available to lease or on PCP finance deals.
Get the Pure Advance Electric Scooter deal, or take a look at yesterday's top deal here...