Deal of the Day: VW T-Cross is great value at £205 per month
Our Deal of the Day for 6 November is a lot of VW SUV for just over £200 per month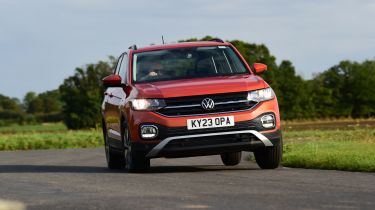 £205 a month for 2 years
£1,851 initial payment 
Strong spec and SUV practicality, at a keen price
Volkswagen may be pushing all of the finance buttons on its EVs at the moment, but the German manufacturer still needs to shift plenty of its bread-and-butter petrol-engined models. And right now it seems keen to do a deal on the T-Cross – in effect, the Golf-based SUV.
Found on leasing aggregator leaseloco.com, this offer gets you into an SE L version of the T-Cross, complete with VW's proven 1.0-litre three-cylinder petrol engine, for a smidgen over £200 per month, and with a sensible nine-month initial payment up front.
Put down £1,851 and the T-Cross 1.0 TSI SE L will cost you £205 per month, over a two-year arrangement with a mileage limit of 5,000 miles per year. Jacking the mileage up to a more realistic 8,000 miles per year will take the monthlies to £219 per month – with a slightly higher corresponding initial payment, of course.
This is a PCH (Private Contract Hire) agreement we're talking about here, so there's no option to buy the car at the end of what is a fixed two-year contract. That means you'll need to keep your next deposit in mind, because there's no opportunity to use any equity remaining in the T-Cross when its time is up. 
However, this relative infliexbility does buy you a significant saving over the more conventional PCP deal; even on the less powerful version of the same car, in less generous Move trim, VW wants a downpayment of £3,482 and 48 monthly payments of £259, with an optional final balloon payment of £10,554 if you want to own the T-Cross at the end of it.
The T-Cross sits firmly on the sensible side of the SUV market, but it's surprisingly practical and has a well-resolved interior. This is an in-stock offer on a pre-facelift version of the model, but SE L trim still brings a solid standard-kit list too, with dual-zone climate control, an eight-inch infotainment system with navigation, adaptive cruise control, front and rear parking sensors, powered folding side mirrors and 17-inch alloy wheels all included.
As always with our Deal of the Day selections, prices and offers are subject to change, while terms and conditions apply. Our experts scour the market for the best deals on cars that we're happy to recommend, choosing only the ones that we think offer the best value.
To get today's Deal of the Day click here or take a look at our previous deal…