'Make no mistake, achieving iconic status is difficult'
Following the launch of the latest Mercedes G-Wagen, Editor Graham Hope considers the factors that create an iconic car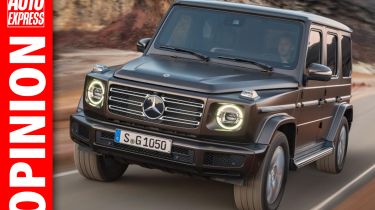 What makes an iconic car? That was the question posed by Mercedes boss Dieter Zetsche at the recent launch of the new G-Wagen.
Mr Zetsche had his own views, and it was hard to quibble with any of them. Firstly, he said, an icon had to offer "no compromises" in its performance. It should also be instantly recognisable, having defined a look. And finally, he mooted, there had to be what he described as "a built-in story".
• 2018 Mercedes G-Class revealed
Alongside the G-Class, four models which he felt ticked the necessary boxes to be considered icons were the Porsche 911, Jeep Wrangler, Ford Mustang and his own company's 300 SL. A fair selection? I'd struggle to argue with any of that quartet.
To that list, I would tentatively add the Fiat 500 and Mini/MINI, which continue to thrive in their own respective areas of the market, despite ever-changing fashions. However, one thing that all these cars highlight is just how difficult it is for a manufacturer to move an icon on design-wise.
That's the reason the MINI hasn't changed all that much since its 2001 rebirth, and why I'm sure the next Fiat 500 will be a very close copy of the current one.
Because make no mistake: while achieving iconic status is incredibly difficult, losing it is fairly easy, a mere design mis-step away. As evidence, I'd point you towards the current Volkswagen Beetle, which to my eyes at least, is a cartoonish pastiche of the much loved original.
Of course, there's one other car that's impossible to ignore in a debate about motoring icons: Britain's own Land Rover Defender. The classic 4x4 ended production in January 2016.
The fact that two years later we are still waiting to see its successor suggests that Land Rover knows only too well what a fine line it has to tread to produce a design that lives up to the legend.
Britain has built plenty of motoring icons, but which ones make the top 50? Read our list of the greatest ever British-built cars...