"Other brands take note: if Tesla made hydrogen cars refuelling wouldn't be a problem"
Editor-in-chief Steve Fowler thinks Tesla-style fuelling infrastructure could solve problem of fuelling hydrogen cars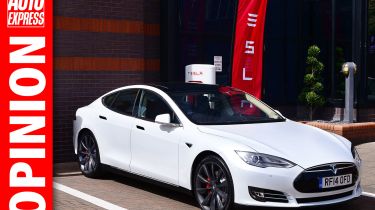 My extended trip to the west coast of the US following the LA Motor Show last week included a drive from Santa Monica to Phoenix in Arizona – a total of 386 miles in a day – in a Tesla Model S. An electric car isn't what you'd normally choose for a long run like that, but you can see the video of my trip here.
What made the journey so interesting wasn't just the car itself (for the record, it's an awesome piece of engineering excellence), but my first real experience of using Tesla's supercharger network – the company's free-to-use fast chargers.
• "For motorists today, hydrogen cars are irrelevant"
At one of the charging stations, I met an owner who'd covered 40,000 miles in his car, travelling the length and breadth of the US. He loved his car, but best of all, by sticking to the Superchargers, he didn't have to pay a dime for electricity!
The LA show was dominated by hydrogen-powered cars, but the biggest discussion point isn't the car itself, it's the lack of action on fuelling infrastucture. And here we have a stand-off: the car companies are ready, but governments want to leave things to the public sector.
• Tesla Model S road trip video blog
The gas companies can produce hydrogen, but aren't specialists in distribution, while those specialists in retailing fuel – the oil companies – are doing very nicely with petrol and diesel, thanks.
Which is where Tesla comes in. Boss Elon Musk has no desire to make a hydrogen car, but Tesla has shown that by taking some of the responsibility for charging its electric cars, they become easier to use and even more popular. Joined up thinking. So let's have some of that from other car companies – how about hydrogen refuelling at their dealerships? Now there's an idea...
Do you think a Tesla-style fuelling infrastructure will be the key to success for hydrogen cars? Let us know in the comments below...