"What Britain lacks in production volumes it makes up for in state of the art models"
The UK might be small but we produce some of the world's best cars, says columnist Mike Rutherford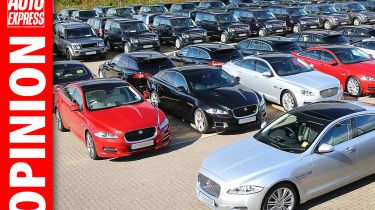 The world is home to around 40 recognised and established car-producing countries. Collectively, this lot (plus a few other nations who dabble) produce a cool 68 million cars a year.
Britain is responsible for 1.5 million cars annually. Korea does 4.1m, the US 4.3m, Germany 5.6m, Japan 8.3m and China 19.9m. But what Blighty lacks in production volumes it more than makes up for in prestigious, state of the art models that make a great impact here and leave a deeper, positive impression overseas. Jaguar and Land Rover – both still designing and building their vehicles in the UK – prove this point brilliantly.
Of the hundreds of car makers worldwide, just eight have qualified for the prestigious finals of the World Car Awards to be staged at the New York International Auto Show on 2 April. One is Jaguar, another is Land Rover. The other six are BMW, Citroen, Ford, Mercedes, Volkswagen and Volvo. Or seen another way, 25 per cent of the WCA finalists this year are British marques.
True, Germany dominates the 2015 WCA finals thanks to the BMW i8 and M4 Coupe/M3 saloon, Mercedes C-Class, S-Class Coupe, AMG GT and S 500 Plug-in Hybrid, plus Volkswagen Passat and Golf GTE. But little ol' Britain comes an impressive second with the Jaguar F-Type R Coupe and Range Rover Autobiography Black LWB. Then it's France (Citroen C4 Cactus), US (Ford Mustang) and Sweden (Volvo XC90) in joint third place.
What's hugely surprising here is that automotive giants such as Japan and Korea, with their numerous brands and state-of-the-art models, are conspicuous by their absence from the World Car Awards finals. Not one Asian model qualifies – despite the fact that the region is responsible for around half the world's car production.
In terms of what can loosely be described as designing and building the best cars on the planet, it's clear Germany, Britain, America, France and Sweden are ahead of Japan and Korea, and way ahead of China.
Asia might be the busiest car-producing region. Trouble is, it's falling short in its attempts to build the best, most desirable models – thus its failure to reach the World Car Awards finals. Asia's loss is Europe's gain.
Let us know what you think of Britain's currrent production efforst in the comments below.