The craziest car options ever
We rifle through brochures and configurators to find the weirdest car options available on new cars, along with some oddities from the past
Buying a new car usually means choosing the paint colour, a trim level and your preferred engine and gearbox combo. Once you've done that, you might feel like adding a couple of key optional extras. That's where things start to get complicated.
The average car options list is packed with useful, desirable stuff but those items often sit cheek-by-jowl with some real oddities. It's those car options from the weirder end of the scale we're interested in here. 
Some car options are undoubtedly sensible buys, they'll make your car look better or add functionality to improve your ownership experience and protect residual values. Others will leave you wondering what the executive responsible was drinking when they came up with the idea. 
• Car configurator overkill: how not to spec your new car 
After rifling through countless brochures and online car configurators, we've compiled a slew of crazy car options for your amazement. Many of these can be added to the specifications of new cars on sale right now, others are classic optional oddballs from days of yore.
Scroll down the page for our pick of the all-time craziest car options and don't forget to tell us in the comments about any strange options you've added to cars you've purchased in the past.
The craziest car options on sale now...
Vauxhall Adam: 'Stars illuminated headliner'
Price: £325
Are you in the market for a chic small car? Do you long for the opportunity to sit under a starry night sky? If your answer to both of these questions is 'yes', the logical course of action is to buy a small convertible and go for a drive at night. Vauxhall, however, has other ideas. It offers an LED-illuminated roof lining in the Adam city car that mimics a star covered night sky. It's quite a unique feature, too, usually offered in luxury models like the Rolls-Royce Phantom rather than budget city cars.
Fiat 500L: Lavazza 500 Espresso Machine
Price: £196/£350
In classic Italian fashion, you can specify a portable pick-me-up machine in your funky Fiat people carrier. In fairness, it's not like Caffe Nero has taken up residence in your new 500L, as the Lavazza 500 Espresso Machine looks more like a glorified flask.
It sits in a powered cupholder, and all you need to do is slot a coffee pod and 50ml of water in. It can be bought as a separate accessory for £196 but it requires the 12V socket to work. Both items come as part of a pack along with front seat lumbar support on the 500L's configurator page for £350.
Bentley Bentayga: Mulliner Tourbillon by Breitling clock
Price: around £117,000
Yes, you read that right. The Breitling clock that can be fitted to the Bentley Bentayga SUV costs more than most cars do. In fact, you could use that money to buy the lion's share of a second Bentayga. The intricate clock mechanism is machined out of solid gold, with the choice of either mother-of-pearl or black ebony clock faces. There are also eight diamonds that mark out the hours. 
Bentley Bentayga: Fly Fishing by Mulliner set
Price: £80,000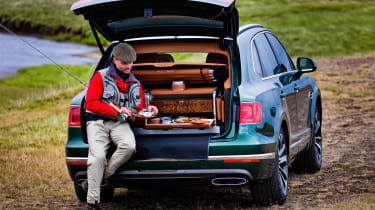 Bentley is appealing to the smallest of niches with this very odd fly-fishing kit. But there are sure to be some potential Bentayga buyers, or existing owners, who enjoy wading through rivers in search of trout. This set, which fits perfectly in the SUV's boot, includes four fishing rods housed in leather-trimmed tubes, a cool box and a 'Master Tackle Station' for your accessories. Best of all, it's cheaper than the £117k Breitling clock above!
Range Rover SVAutobiography: Event Seating
Price: £5,900
Picture this: after a long day of reclining in the back of your Range Rover SVAutobiography, you might feel a little peckish and want to stop off for a snack. After asking your driver to pull up in a nice field for some caviar and champers, he unfurls one of the car's unique optional features – the Event Seating – from the boot. Finished in either ebony or tan Windsor leather, this retractable seat bench stows away underneath the boot floor.
Mercedes E-Class and S-Class: Heated armrests
Price: £530 (for Warmth Comfort Package, S-Class SWB)
When setting off on a winter's morning, most drivers fire-up their car's heater to stave off the frosty chill in the air. Advancements in car tech have meant that you can get heated seats and a heated steering wheel to keep the cold at bay too, but what about your chilly elbows? Fear not – Mercedes now provides the option of a heated central armrest as part of its options list for its luxury saloons.
Porsche 911: Leather-trimmed air vent slats/air vents
Price: £563/£806
Porsche will let you trim almost anything in the 911's interior with leather through its Exclusive department. Along with the ability to trim the air vents in cowhide, you could also specify a leather wrap for the fuse box, seat belt buckles, belt outlets, steering wheel surround and sun visors. Our advice is to avoid cranking up the heater too much, though, or your 911 might start to smell like a barbecue.
Nissan Leaf: Solar panel spoiler
Price: £300
Among all of the frivolous options on this list, the Leaf's solar panel spoiler is a stroke of genius. The idea behind it is to save the electric car's main battery being drained by things like leaving the air conditioning or lights on when the car is technically off. That should help put off your electric car range anxiety by at least a few extra miles, and is arguably quite an essential box to tick on the Nissan Leaf's options list.
MINI Convertible: Rain warner
Price: £1,620 (as part of MINI Navigation System XL pack)
Have you got a trip to the seaside planned in your drop-top MINI Convertible? Never fear – the in-built rain warner will notify you of any inclement weather on your route, so you can pull over to raise the roof before the drenching happens. We should stress that the price stated above isn't just for that feature – it's included in the price of the Navigation XL system. However, you could save yourself some cash and simply look up instead.
Tesla Model S/X: Bioweapon Defence Mode
Price: £2,600 (Model S, as part of Premium Upgrades Package)
Prepare yourself from nuclear fallout, airborne diseases and dust from the dirty outside world! Tesla claims that its Bioweapon Defence Mode is the world's "first true HEPA air filtration system (on a car), that is 100 times more effective than premium automotive filters."
Partnership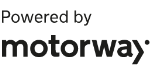 Need to sell your car?
Find your best offer from over 5,000+ dealers. It's that easy.
The system pressurises the cabin to provide "maximum protection against hazardous external conditions." We should also point out that this is a crazy idea even by the standards of Tesla, the car brand that gave us Ludicrous Mode and Falcon Wing doors.
Jaguar F-Pace: Activity Key
Price: £300
Are you the sort of person who takes the 'sports' part of the Sports Utility Vehicle name seriously? Do you go windsurfing, mountain biking and then finish your day off with a spot of rock climbing? If so, you are the kind of person Jag is targeting with its optional Activity Key for the F-Pace.
It's a wristband that works like a RFID transmitter to lock and unlocks the car when you're nearby. It saves you carrying the real key (wetsuits sometimes don't have pockets) when you're out and about living your active lifestyle.
Crazy car options from the past
MINI Convertible Mk2: 'Openometer'
The second-gen MINI Convertible's Openometer sets a truly high standard for car option silliness. MINI says the device "records the time spent by the owner driving with the top down, meaning passengers can measure their visual coolness inside, even if it's cold outside."
Pontiac Aztek: attachable tent
It might have subsequently found fame in the hit TV series Breaking Bad but the Pontiac Aztec was originally billed as a car for active young people who went kayaking, snowboarding and the like. So this option, along with an inflatable mattress, meant the Aztek could technically be used as a camper van. The unique tent option wasn't enough, however, to stop the MPV/4x4 being panned by critics, and it made several ugliest cars lists for its ungainly looks.
Renault Modus: boot chute
Renault's success building people carriers peaked in the noughties, where the brand aimed to expand its practical car range with the Modus mini-MPV. The most notable feature was the £250 'boot chute' - a bottom-hinged opening attached to the bootlid. The aim was to make it easier to load small items, as you could just drop them through the chute in seconds, rather than opening the tailgate fully.
Volvo S80: heartbeat sensor
Back in 2007, Volvo introduced a novel security measure for its S80, V70 and XC70 range. The Personal Car Communicator built into the key would remotely notify the owner of the car's security status. A green light meant locked, yellow meant unlocked and red meant the alarm had been activated.
If the key flashed red, it meant it had detected someone inside the car due to a "highly sensitive heartbeat sensor" in the car. The new tech even won the innovation award at the 2007 British Insurance Car Security Awards. 
Honda CR-V: power shower
When the first-gen Honda CR-V came about, a rather unique option was buried in its brochure accessories list. Along with the usual dog guard and floor mats, you could also specify a shower attachment that was powered by the 12V socket in the boot. The brochure says that it "can be used to hose down muddy boots", but we suspect at least one person has tried to use it for more than just that.
What do you think of the options on this list? Can you think of any other weird car attachments? Let us know in the comments below!