Best cars from the 2016 Detroit Motor Show: which was your favourite?
We take a look at our stars of NAIAS 2016, but which model do you think stole the show?
The press days of the 2016 Detroit Motor Show have come to a close. All of the new cars have been revealed to the world and we're left to reflect on what we've seen.
The 2016 North American International Auto Show, or NAIAS for short, has given us a huge amount of new cars to get excited about in the next year or so. There was everything from hydrogen-fuelled SUVs to opulent luxury saloons and good old-fashioned V8 sports cars. Plus, the show gave us a chance to spy on the future of the US and global car markets, providing insight into what car makers are planning for 2016 and beyond.
• Detroit Motor Show 2016: news round-up
So now we've had time to sit back and let our keyboard fingers cool off, one big question presents itself. Which should be crowned star of the show?
Scroll down to recap the most exciting new cars of the 2016 Detroit show and get our view on what we think deserves the title. But the important thing is what you think. Don't forget to have your say and vote in our Detroit star cars poll!
Find out more about the biggest Detroit car reveals
Click the links below to get the full story on the star car contenders...
Audi h-tron Quattro concept – Hydrogen-powered SUV capable of 300-mile rangeAudi A4 Allroad – jacked-up A4 Avant capable of tackling more of the rough stuffBMW M2 – Rear-wheel drive miniature M4 with 365bhpGenesis G90 – Hyundai's first model from its luxurious sub-brandInfiniti Q60 – Sharp-looking coupe with twin-turbo V6Kia Telluride – Massive US-only SUV filled with health monitoring techLexus LC500 – Show-stealing two-door V8 coupe with LFA interiorMercedes E-Class – 5 Series rival that's filled with tech from the S-ClassMercedes SLC – SLK replacement with hot 362bhp AMG versionVolvo S90 – Swedish saloon with XC90 looks and luxurious interiorVolkswagen Tiguan GTE Active Concept – Chunky hybrid SUV that shows off new infotainment tech
The Auto Express team's star cars from Detroit 2016
Mercedes E-Class Steve Fowler, Editor-in-Chief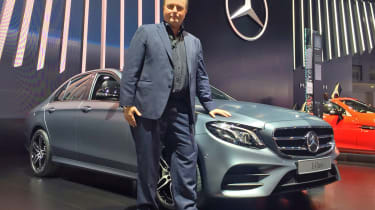 The Mercedes E-Class swings its star of the show status for me on the inside rather than the outside. If I'm honest, I find it a bit dull to look at, but you'll have no complaints sitting behind the wheel where the level of tech and quality is stunning. Sure, not everything is standard, but this car gives us a glimpse inside an autonomous future and sets the standards for interior design rivals will now be measured against.
Lexus LC500 Richard Ingram, News Editor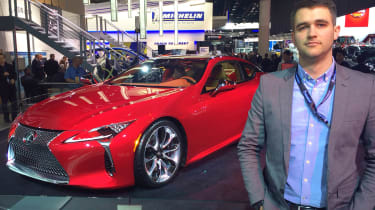 My star of Detroit 2016 was the striking Lexus LC500 Coupe. Designed to rival cars like the Mercedes SL and BMW 6 Series, it's a two-door, four seat coupe with a hefty 467bhp. It was previewed at previous shows by the LF-LC concept, but unlike other manufacturers, Lexus has stayed true to that initial design study – and all the better for it. The LC500 looks great. Now we just need to convince them to make a V10-powered LC F!
Best cars at Detroit Motor Show 2016: poll
But which was your favourite car from NAIAS 2016? Do you agree with Steve or Rich, or do you think something else was the star of the show? Vote now in our poll.