Los Angeles Motor Show 2019: news round-up
This year's LA Motor Show provided plenty of excitement, with Audi, Ford, Hyundai, Mercedes, MINI, Toyota and VW all revealing new metal
The 2019 Los Angeles Motor Show - the final motor show of the year - was a huge success as manufacturers from across the globe displayed a host of production and concept cars. Although LA is the third American expo on the international calendar, unlike Detroit and New York it generally has more European-relevant debuts and this was the case again this year.
Audi was one of the busiest European brands at Los Angeles, showing off the new e-tron Sportback and the blistering RS Q8, while, not to be outdone, Mercedes launched new versions of the AMG GLE 63 S and AMG GLS 63. BMW gave public debuts to the 2 Series Gran Coupe and M8 Gran Coupe and Porsche revealed the Taycan 4S.
• 2019 Frankfurt Motor Show: round-up
But this is an American show, and the biggest reveal of them all was arguably Ford's Mustang Mach-E - an all-electric SUV that takes inspiration from the iconic sports car that shares its name. US start-up Bollinger also caught the attention of the crowds with its retro-styled B1 SUV and B2 pick-up.
The above is just a taster of what Los Angeles had to offer though, so scroll down for a full round-up of everything that graced the halls at the LA Convention Centre and don't forget to click on our image gallery to get a real taste for what the show was like.
Los Angeles Motor Show: gallery
Los Angeles Motor Show 2019: A to Z
Audi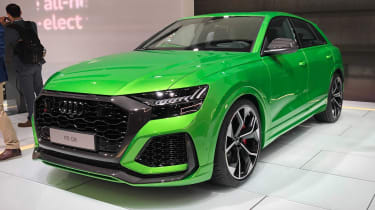 • Audi e-tron Sportback• Audi RS Q8
Audi unveiled a production-ready version of its all-electric e-tron Sportback at LA, following the car's lightly camouflaged appearance at the 2019 Geneva Motor Show. The brand's new coupe-SUV offers a zero-emissions alternative to the BMW X4 and Mercedes GLC Coupe, and boasts a maximum output of 402bhp and claimed all-electric range of 248 miles.
In stark contrast to the e-tron Sportback, the new RS Q8 also featured on Audi's show stand. The 592bhp super-SUV boasts a 4.0-litre V8 mated to a 48-volt mild-hybrid system, which propels it from 0-62mph in just 3.8 seconds and on to a limited top speed of 155mph (although the limiter can be removed, unlocking the RS Q8's full potential of 189mph).
BMW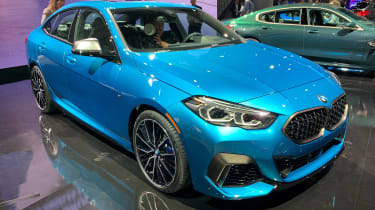 • BMW 2 Series Gran Coupe• BMW M8 Gran Coupe• BMW M boss confirms standalone M model
BMW's relentless niche-hunting crusade continued at LA with a pair of new four-door coupes, respectively tailored towards the entry-level and range-topping regions of the German brand's line-up. Both cars had previously been unveiled, but the Los Angeles Motor Show marked their first public appearances.
The new BMW 2 Series Gran Coupe is based on the same front-wheel-drive architecture as the two-door version. It's due to arrive in the UK next March, with the base-model sporting the same 138bhp 1.5-litre three-cylinder petrol engine and six-speed manual gearbox as the MINI hatch – and a price-tag of around £25,000.
BMW's new M8 Gran Coupe will play rival to the latest Porsche Panamera Turbo. The UK will only receive the brand's most potent Competition variant, which features a 616bhp twin-turbocharged 4.4-litre V8 engine, a 0–62mph time of 3.2 seconds, an electronically limited top speed of 155mph and a price-tag pf £120,935.
Bollinger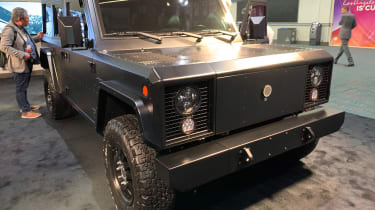 Bollinger, the start-up American EV manufacturer, publically unveiled its new, no-nonsense, all-electric SUV and pick-up truck. Called the B1 and B2 respectively, the firm claims they're "the world's most capable" sports utility vehicles, with both models offering a configurable body shell, class-leading carrying capacity and a 606bhp all-wheel-drive electric powertrain.
Bugatti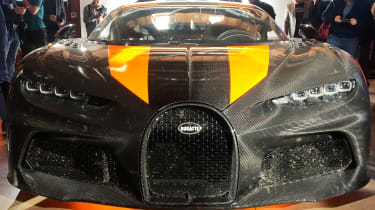 The Bugatti Chiron SuperSport 300+ is the production version of the car that broke the 300mph barrier, however the 30 customers who snapped up the limited, record-breaking Chiron will have to make do with a limited top speed of just 275mph.
Chevrolet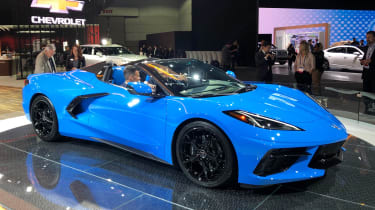 • Chevrolet Corvette Stingray convertible
A convertible version of the all-new Chevrolet Corvette Stingray is on the way after it made its public debut at LA. Carrying roughly a £6,000 premium over the coupe, the convertible features an electrically-folding composite roof and the same 6.2-litre V8 engine with 495bhp and 637Nm of torque.
Ford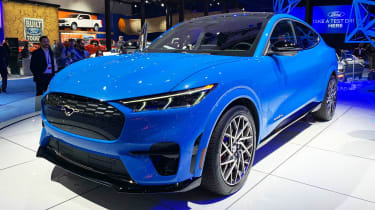 Ford launched an all-new, Mustang-inspired car at LA. However, this is no standard muscle car as the Mustang Mach-E is an all-electric SUV. It arrives with two different battery options - 75kWh and 99kWh - with a maximum WLTP range of around 370 miles, while the most potent offering produces 333bhp. The Mach-E goes on sale next year, with prices starting from £40,270.
Hyundai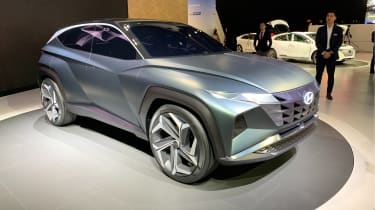 • Hyundai Racing Midship prototype• Hyundai Vision T plug-in hybrid concept
Want to know what the next Hyundai Tucson will look like? The Korean brand revealed the Vision T plug-in hybrid concept at LA and it previews the styling we can expect to see on the next-gen Tucson, while also strongly hinting that a plug-in powertrain will be available.
Joining the Vision T on Hyundai's LA stand was the Racing Midship prototype. Although it doesn't directly preview any future model, it's a test bed for the tech that's likely to find it way on to future Hyundais.
Karma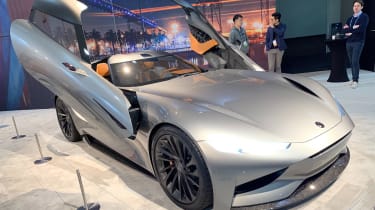 The electric hypercar arms race is showing no sign of slowing down, and Karma threw its hat into the ring at LA with the SC2 concept. Boasting 1,085bhp, the SC2 is capable of sprinting from 0-60mph in just 1.9 seconds. Safe to say it's pretty quick, then.
Lexus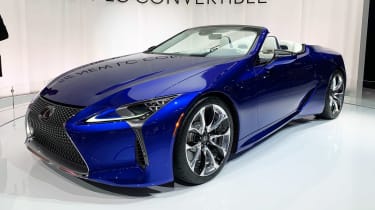 • Lexus LC Convertible
Lexus only had one new model at LA but it was arguably the most gorgeous car on display. The LC 500 Convertible is a soft-top version of the LC 500 coupe and is aimed squarely at the BMW 8 Series Convertible. Expected to go on sale next summer, the LC 500 Convertible marks the first time Lexus has built a drop-top car since 2015.
Mercedes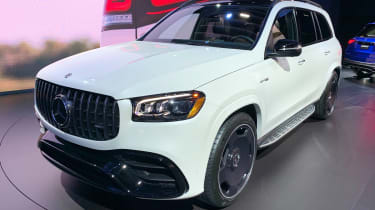 • Mercedes-AMG GLE 63 S• Mercedes-AMG GLS 63
Not to be outdone by the Audi RS Q8, Mercedes revealed a pair of super-SUVs of its own at LA. The monstrous Mercedes-AMG GLS 63 will be one of the fastest ever seven-seater cars when it arrives in the UK, while the Mercedes-AMG GLE 63 S matches the RS Q8's 3.8-second 0-62mph time. Both the GLE 63 S and GLS 63 pack a whopping 603bhp.
MINI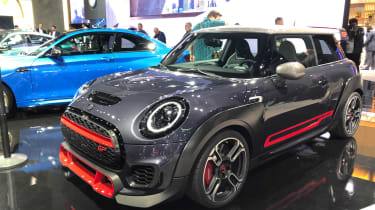 Following its recent sub-eight-minute Nurburgring lap time, MINI's latest John Cooper Works GP hot hatch made its official debut at LA, sporting a 302bhp turbocharged four-cylinder engine and aerodynamically optimised body panels. It'll go on sale next year, in a limited production run of 3,000 units, priced at £34,995.
Porsche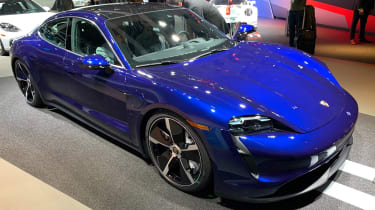 The third model to join Porsche's Taycan family is the 4S, and it made its public debut in LA. This new Taycan will start from £83,367 and come with a 79.2kWh battery capable of a range of 252 miles on a single charge. Buyers will be able to upgrade to the larger battery found in the Turbo model, though, extending the maximum range to 287 miles.
Toyota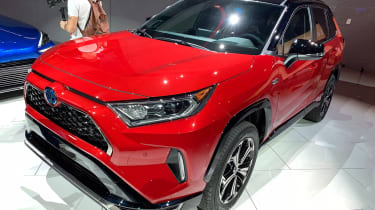 • Toyota RAV4 Prime PHEV
Toyota pulled the covers off a new plug-in hybrid variant of its RAV4 SUV. The Prime is the most powerful RAV4 yet, boasting 298bhp, a 0-60mph of 5.8 seconds and an all-electric range of 39 miles. First UK deliveries are not expected until 2021, though.
Volkswagen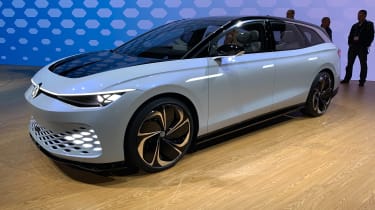 • Volkswagen ID. Space Vizzion
Volkswagen unveiled its seventh ID.-badged all-electric concept car at this year's LA show. Called the ID. Space Vizzion, it previews an all-new electric estate, which is scheduled to go on sale in Europe in 2021. Like the rest of the ID. line-up, it's based on Volkswagen's MEB platform – and boasts a range of 367 miles between charges.
What was your highlight from this year's Los Angeles Motor Show? Let us know in the comments section below…