Lexus IS220d SE v Peugeot 407 V6 HDi GT
Can Peugeot's new 407 V6 diesel match Lexus' premium IS220d in its first UK test?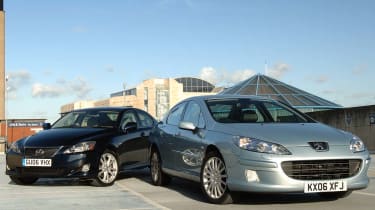 It's a dilemma that faces business drivers across the UK. You have around £25,000 to spend on a new sal­oon and you want something that's going to stand out in the company car park. But what do you go for: a range-topping family model with all the trimmings or an image-conscious compact executive?
We've mentioned on previous occasions that Peu­geot's 407 looks as stylish as many supposedly more upmarket small luxury saloons, but does it perform as well? Here it gets the chance to put that theory to the test. It now comes with the same 2.7-litre V6 HDi diesel that's seen service in the Jaguar S-Type and Land Rover Discovery, while GT has replaced Executive spec, bring­ing the saloon more in line with the firm's 407 Coupé.
Facing the 407 is Lexus's IS220d. A competitive machine, it's well equipped and has the Japanese company's leg­endary reliability and quality to fall back on. What we want to find out is which is better for quality, refinement, desirability and running costs. Put simply, is a top-line family saloon as capable as a compact executive?
Verdict
On this evidence, you're better off choosing the mid-range compact executive car over the family saloon. While it is not as generously specified, the Lexus IS220d feels more luxurious from the word go.
Yes, the manual gearbox is poor and the engine coarse at idle. But in the crucial areas of running costs, desirability and quality, it performs better.
Not that the Peugeot 407 is bad. In fact, it has effortless performance, a crisp and relaxed driving experience and good comfort. But in top-spec guise, the V6 HDi is a very expensive car to run, and doesn't provide as much of a feelgood factor as its rival. We'd recommend you have a look at the cheaper, cleaner and more efficient 2.2 HDi 170 instead.