Citroen C4 Picasso v Ford S-MAX v Vauxhall Zafira v Mazda 5
Can Citroen's new C4 Picasso join motoring's A-list? Here it meets the S-MAX, Zafira and 5 in first UK test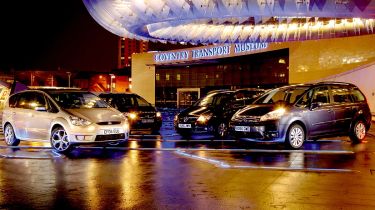 Coventry's Transport Museum houses the world's largest display of British road-going machines. With a collection that totals 240 cars, commercial vehicles and buses, plus 100 motorcycles, it covers the whole spectrum of UK motoring through the ages.
Of course, our car industry has now suffered a massive decline, and as a result our European neighbours are now producing cars that sell extremely strongly on these shores. Take the Citroen Xsara Picasso, for instance. Since it went on sale here in June 2000, the French firm has shifted more than 230,000, making it the second best-selling Citroen of all-time in the UK, after the Saxo. Throughout its life, the five-seat Picasso has been a huge hit with cost-conscious private buyers, consistently in the top three of the compact MPV charts.
However, seven-seaters are now a force to be reckoned with and account for more than one-third of the 200,000 annual sales in this sector. What's more, expectations over quality, dynamics and safety have increased markedly.
So please welcome the next generation – the new C4 Picasso. Unsurprisingly, it's based on the C4 hatch and is packed with the same technology. But the competition in the compact MPV marketplace is tough, so here the newcomer faces three of the best in the class. First up is the Ford S-MAX. It's bigger than its rivals, and is designed to offer a sporty drive, while also impressing with its quality, handling and practicality. But for functional compact transport, the Mazda 5 takes some beating. It's well thought out, is excellent value for money and is our current New Car Honours class champion.
All three must also face the car that started the seven-seat compact MPV revolution – the Vauxhall Zafira. Now in its second incarnation, it remains the segment's biggest-seller. Can the Citroen go straight to the top of the class? Read on to find out in its first UK test.
Verdict
Citroen has come up trumps. The new C4 Picasso is a massive step forward for the French marque and shoots straight to the top of the MPV sector. It's packed with family friendly features, has the most cabin stowage, offers class-leading refinement and an excellent seat layout.
It was pushed hard by the Ford S-MAX and Mazda 5, though. In 2.0 TDCi guise, the S-MAX, although expensive, is at its best, while the 5 struggles with the lower power engine. So in contrast to the Best Compact MPV result in our 2006 New Car Honours, this time the Ford narrowly beats the Mazda. As a testament to how much the compact MPV sector has evolved, the Vauxhall Zafira is left trailing on all counts in fourth. PLEASE