Renault Clio vs Fiat Grande Punto vs Mazda 2
Do turbocharged engines make sense in superminis? Fiat thinks so, and has just fitted one into its latest Grande Punto. We see how it fares against Renault's Turbo Clio – and our current class leader, Mazda's normally aspirated 2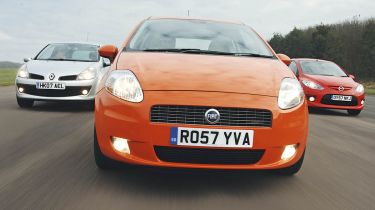 Say 'turbo' to most people, and images of huge bonnet scoops and loud exhausts spring to mind. But while turbochargers were once the preserve of performance cars, they are now appearing on small-capacity engines – and not just to increase power and torque. Economy and emissions can also be improved with forced induction – very desirable, given rising petrol prices and tax calculated on CO2 output.
But are the latest machines really all they're cracked up to be? Don't forget, there are plenty of first-rate normally aspirated engines fitted in small cars, too. To find out, we're pitching two new turbocharged superminis, from Fiat and Renault, against a standard rival in the shape of the new Mazda 2.
The Grande Punto's new 1.4-litre T-Jet boasts a generous 120bhp and 206Nm of torque, giving it strong performance credentials and making it the fastest model in this line-up. Meanwhile, the Renault Clio's 1.2-litre TCE (Turbo Control Efficiency) unit has been designed to deliver excellent refinement and economy, and although it develops 20bhp less than the Fiat, it produces more torque lower in the rev range than our final contender, the Mazda.
But the Japanese five-door won't be a pushover. It's our current supermini champ, and here we're testing the top-of-the-range 1.5-litre Sport, which develops 102bhp and 137Nm of torque. But will the 2's reign be over before it's scarcely even begun?
That's what both turbocharged Europeans hope, as the trio meet on British roads for the first time. Which will emerge victorious?
Verdict
So are turbo engines better than normally aspirated ones? The jury is still out on that. The Clio isn't at its best in turbo petrol guise, and finishes third. It's by no means disgraced, but while the 1.2-litre engine is smooth, it's lethargic in comparison and the steering is over assisted. It's comfortable, though, and the neat interior has the most premium feel of the three.
While the Fiat's T-Jet engine impressed us, the economy figures didn't. That doesn't prevent it from being the best engine here, though. Peppy, urgent and rev happy, it's the powerplant the Punto has been longing for. It's enjoyable to use and makes the Italian supermini more desirable than ever. But that's not enough to give Fiat victory – overall it can't match the excellent Mazda. The 1.5-litre engine doesn't have a turbo surge, but it's still great to use. Combined with a slick gearshift and well weighted steering, the 2 is a joy to drive.