Audi A3 vs BMW 116i vs Mercedes A170
You don't have to spend massive amounts of money to get behind the wheel of a Mercedes, Audi or BMW. Here we try three sub-£18,000 models from the German Premium marques to see which is the best bet for image-conscious drivers...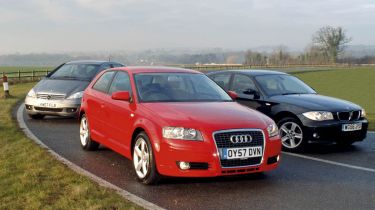 Whether it's a bank account, an airline ticket, a supermarket range or even pet food, it seems that, whatever the product, there's a 'premium' version available.
And it's just as true in the car industry. Take a look at the three biggest German luxury makers: Mercedes, Audi and BMW. The depth of their line-ups is huge, with a model on offer in nearly every niche. And yet all three still sell cars which retail for less than £20,000...
The big question is whether these 'affordable' premium cars make good buys. Audi is debuting an all-new 1.4-litre turbocharged FSI engine in its entry-level model, the A3. It replaces the outgoing normally aspirated 1.6-litre, with bosses claiming the car is now better than ever. So, to put this to the test, we pitted the three-door Sport model against two class competitors which are very closely priced.
First up is the cheapest BMW you can buy. The 116i is fresh from an engine upgrade that includes the firm's clever stop-start and brake regeneration technology – collectively known as Efficient Dynamics. And in this company, the base 1-Series' rear-wheel-drive chassis is unique.
Mercedes offers more choice for those on a budget. A-Class prices start at £13,892, but to form a level playing field, we test the higher-spec A170 Elegance SE. The baby Benz promises neat packaging – but does that make it the most convincing product?
Verdict
These three cars show you don't have to spend a fortune to enjoy a premium ownership experience. Rivals can offer more kit, pace or space for the same money, but few can match the feelgood factor offered by the German brands.
Nevertheless, our contenders are surprisingly different. The A-Class is cleverly packaged and designed with practicality in mind, but unless you need compact MPV space, it's hard to recommend. It doesn't drive as well as its rivals and can't match their quality feel, and so it finishes third.
Picking a winner is harder. The Audi A3 has a top-notch cabin, understated styling and a gem of an engine in the punchy new 1.4 TFSI. Meanwhile, the Efficient Dynamics package makes the latest 116i the cleanest and most economical car. In the end, we've sided with the BMW, as it's the most fun to drive and the furthest removed from a conventional family hatchback.