Vauxhall VXR8 vs Mitsubishi Evo
Vauxhall's VXR8 has been fitted with a more powerful V8 engine. So, does that make the new LS3 a greater four-door thriller than Mitsubishi's Evo X?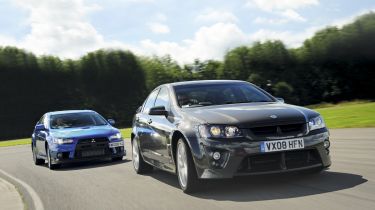 What's the winning formula for creating the ultimate performance saloon? There are various approaches – and the Vauxhall VXR8 and Mitsubishi Evo X couldn't be more different in their quest to provide maximum thrills in a four-door package.
But is it Aussie brawn or Japanese brains that will win the day? Both of these contenders have four doors, each costs a little more than £35,000 and both claim to cover 0-60mph in less than five seconds.
However, that's where the similarities end. First up is the new LS3 variant of the VXR8, now powered by a 6.2-litre version of the Corvette's V8 engine. It's built and designed in Australia, where it's called a Holden HSV Clubsport R8.
Aussie performance fans love the racy Holden, and its combination of muscle car looks and power has won it many admirers here, too. But in the UK, the model faces competition from an entirely different saloon that enjoys an equally dedicated following.
Ever since it arrived in 1992, successive generations of the Mitsubishi Evo have pushed the parameters ever further in the thrill-seekers' class. With four-wheel drive and a turbocharged 2.0-litre engine, the latest incarnation – the FQ-360 – is a rally-bred beast that delivers scintillating pace. Tested here in manual form, it's sure to get pulses racing.
Verdict
One person's medicine is another's poison. So lovers of muscular V8 saloons will probably hate the Mitsubishi, while Evo fans are likely to be unimpressed by the big Aussie.
At the start of this test, we set out to establish which is the better performance car – and they deliver their thrills in totally different ways. The lack of complexity is an asset for the Vauxhall, as its old-school approach gives it bags of charm. The tuneful V8 offers lazy performance, while the spacious cabin and soft suspension make it comfortable to drive.
But the under-engineered VXR can't match the Evo's pace or involvement. Although it's less refined, the stiff chassis, sharp steering and traction ensure the four-wheel-drive Mitsubishi is one of the fastest point-to-point vehicles on sale. Thanks to its light weight and punchy turbo engine, it's the more responsive car, too.