New VW Golf MkVI vs rivals
VW's MkVI hatch takes on the all-new Renault Mégane, facelifted Honda Civic and established Ford Focus in the definitive shoot-out.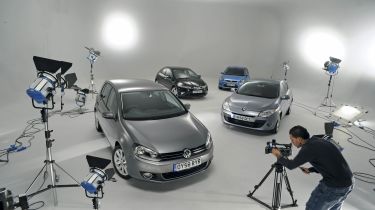 What a way to start the new year – with one of the biggest verdicts of 2009! The compact family class is set for a shake-up, with two new models and a facelifted class leader. The car hogging all the limelight is the Volkswagen Golf. It has already been criticised for being an evolutionary step on from the MkV rather than a giant leap.
Will that prevent it triumphing here? Blending in is not what Renault's Mégane was designed for. It is even more daring than before, with striking lines visible from every angle. Both of these newcomers are here to take on two of the best compact family cars in the business. Honda's Civic has long been our top choice, and with a mild makeover helping it to stay at the top of its game, it will be the model to beat.
However, let's not forget the irresistible talents of the Ford Focus. It comes to the challenge without the benefit of a facelift, yet it still offers a blend of practicality and driving dynamics that few rivals can match. With thousands of buyers intending to choose one of our quartet over the next year, this is a ranking you can't afford to miss!
There's also an exclusive video feature of the year;s final group test here!
Verdict
Among the sea of new models available to compact family car buyers, this is undoubtedly the best four. Choosing a winner from our quartet is tough, though...
The biggest surprise to emerge over our 600-mile test route came in the shape of the new Mégane. Could it really better the evergreen Focus? In this trim, with this diesel, the answer is a tentative yes.
Lined up next to its French rival, the Ford's styling appears dated, its engine lacks punch and it seems pricey. The fact it still has more polished dynamics than any competitor is just not enough.
That leaves the Civic and Golf fighting it out for first place. Two different approaches have resulted in radically different packages. The Honda's cabin practicality is unrivalled. It manages to be an estate car, an MPV and a sporty hatchback all in one. Where it misses the mark is with desirability and refinement.
And that's where the Golf cleans up. Yes, the design could and should be more imaginative, but it offers engaging, refined and relaxing dynamics in a practical, premium package – all for a surprisingly competitive price.