Porsche Cayenne Diesel vs BMW X6
Porsche isn't afraid to defy convention – as its Cayenne SUV proves. Now, it's fitted with the firm's first-ever diesel engine, too.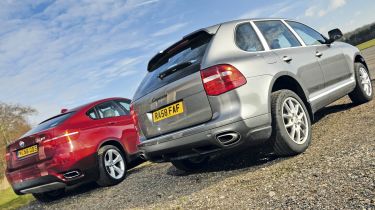 A sporty SUV sounds like a bit of a contradiction in terms – but that hasn't stopped the concept from becoming a huge success. The very idea of a Porsche off-roader got enthusiasts hot under the collar when the Cayenne first arrived in 2002, yet mixing the genes of a sports car with an SUV turned out to be a master stroke.
Despite its 911-on-stilts styling, the Cayenne proved a sales smash. That was seven years ago, and with emissions-based taxation, high fuel prices and environmental concerns, bosses have prepared yet another shock for die-hard fans of the famous brand. Will a diesel Porsche push the purists over the limit?
For its first-ever oil-burner, the firm has played it relatively safe by using the proven 3.0-litre V6 TDI found in the VW Touareg and Audi Q7. When it comes to blending diesel power with sporty driving, however, one manufacturer reigns supreme: BMW. Oil-burning engines power some of its most desirable models, including this bold X6.
While the more conventional X5 is the practical choice, the coupé-shaped 4x4 has the stand-out desirability to draw customers into showrooms. We put the two models side-by-side to see if Porsche has got the diesel formula right first time...
Verdict
Fitting a diesel to the Cayenne makes a lot of sense. It's cleaner and more frugal than its petrol stablemates, yet still fun to drive. And it's not as expensive as many premium rivals. The VW-derived 3.0-litre V6 is relatively refined and, unlike the BMW, the Cayenne has genuine off-road ability. It's also more practical than the X6 and is £5,131 cheaper.
Park the Porsche next to the BMW, though, and it looks dated inside and out. The X6 also holds more driver appeal – for example, the Cayenne's Tiptronic gearbox only serves to frustrate. So, despite being the pick of the SUV range, the diesel Porsche finishes second.
The unique styling, vast size and four-seat cabin of the X6 won't please everyone, but it's a fine piece of engineering. The twin-turbo delivers impressive performance, and the cabin is as refined as a luxury saloon's.