Golf Plus v FR-V
VW's new Golf Plus promises more space and flexibility than the standard hatch. Is it a better choice than Honda's practical FR-V?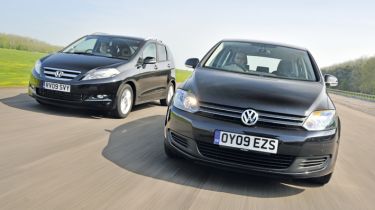 Sitting in between the standard Golf hatchback and the Touran compact MPV, the original Golf Plus was meant to be everyone's favourite Volkswagen made more useful.
The trouble is, it ended up being more of a Golf minus the appeal. Undeterred, bosses are still thinking positive with the second-generation Golf Plus. But before you sell yourself on the idea of a more practical version of the MkVI, you should be aware the newcomer is based on the MkV platform.
Will the raft of design tweaks make up for this, and convince buyers they need a Golf with something extra? We find out by putting it up against the Honda FR-V, which strikes a similar balance between compact dimensions and people-carrying ability. It comes with the benefit of a sixth seat in-between driver and front passenger, and is priced in the same bracket as its rival.
We test the most financially attractive versions of both. Our VW gets the 120bhp 1.4-litre TSI petrol engine, and promises 44.8mpg economy and 146g/km emissions. It performs as well as the 138bhp 1.8-litre FR-V. So, does the new Golf Plus add up?
Verdict
We've got a lot of positive feedback for the Golf Plus... but that hasn't made it a winner here. It just goes to show what a well engineered car the MkV Golf was – as there's little wrong with the way the latest model drives. Even so, it's hard not to feel short-changed, as buyers will miss out on the refinement and comfort that make the MkVI such a supreme all-rounder.
In the end, the Golf is held back by its lack of true purpose. Want practicality? Go for a proper compact-MPV. Fancy a conventional hatchback? Then buy a standard Golf and get VW's latest chassis technology.
Honda's FR-V is far more committed to versatility. It's interesting enough to appeal to anyone wanting something less ordinary than the average MPV, while also offering six-seat flexibility. As a compact MPV with a twist, the Japanese car makes more sense than its rival.
1st: Honda FR-V It's not the freshest of designs, but the FR-V still has bags of appeal. While it can't match the VW's more efficient engine, the innovative interior and decent driving experience help it to win against the revised Golf Plus.
2nd: VW Golf Plus WE can't penalise the Golf Plus for not being a great compact MPV, because that's not really what it's trying to be. However, rivals are more practical and the latest Golf hatchback is a better option if you don't need the extra space.