Fiesta Mountune vs. rivals
Calling the tune? We see if Ford's upgraded Fiesta is a hot hatch class leader – as it meets Vauxhall and Renault rivals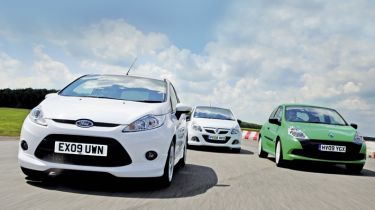 Nimble, fast and fun to drive – hot hatches provide more thrills per pound than most supercars. And the current crop of hot superminis is better than ever.
Leading the way is a tuned Ford Fiesta. Based on the standard 1.6-litre Zetec-S, it gets a raft of performance-enhancing modifications from the experts at Essex specialist Mountune. But with a modest 138bhp output, it won't have an easy ride – as two more powerful rivals aim to beat it to the chequered flag.
First up is the Renaultsport Clio 200 Cup. It has just hit UK dealers with a striking new look, extra power and a more driver-focused chassis. The hot Clio promises to be even better than its 197 Cup predecessor – but will it see off a familiar face from Vauxhall?
The limited-run Corsa VXR Arctic Edition features bold styling and a new sports exhaust that claims to liberate even more power from its turbocharged engine. It's the most powerful car here, as well as the most expensive – but is it the best?
Verdict
Our three hot hatches all aim to provide driving thrills in a small and affordable package, but they come from different directions. The line-up comprises a regular production model, a limited-run special edition and a car tuned by an aftermarket firm. So, which approach is the most successful?
It's easier to pick a loser than a winner, because in this test the brash Corsa VXR is outclassed. It is fast in a straight line, but simply doesn't engage with the driver in the corners. Plus, the Vauxhall is expensive compared to its rivals.
Separating the remaining two cars is far less straightforward. While we've no complaints about the way the Mountune Fiesta steers or stops, the performance upgrade doesn't put the Ford on the same level as the Renault. For all of its dynamic purity and neat styling, the newcomer doesn't feel that much different from the Zetec-S on which it's based.
That leaves the Renaultsport Clio 200 Cup to nip ahead and take the chequered flag. Its rev-hungry engine and snappy gearbox are a thrilling combination, plus it's much faster than the Ford. For diehard enthusiasts it fulfils the hot hatch brief to the letter.
1st: Renault Clio The 200 Cup is fast, frenetic and fun, but it's not for the faint hearted. To get the optimum pace, you have to put up with uncompromising ride comfort and a no-frills cabin. However, we can't think of many small cars that are as absorbing to drive.
2nd: Mountune Fiesta Add Mountune's upgrade kit to Ford's styling package, and you have the hottest Fiesta available. The sweet engine, well balanced handling and grippy chassis make it great fun, but so is the standard Zetec-S. Still, this model has whet our appetites for a faster version.
3rd: Vauxhall Corsa The limited-edition Arctic doesn't live up to its billing. At £17,790, it's much more expensive than its rivals, yet isn't as polished. It's fast, but let down by questionable styling additions, unruly handling and numb driving dynamics.