Aston Martin V12 Vantage vs Audi R8 5.2 V10 FSI vs Corvette ZR1
Audi's new V10-engined R8 battles with the Aston Martin V12 Vantage and Corvette ZR1 for the title of ultimate supercar...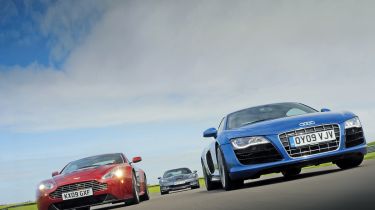 The problem with building a world-beating supercar is that, sooner or later, you have to create a faster one. In the ongoing battle to deliver more power, more speed and more excitement, makers know that the only way to keep customers happy is to wheel out increasingly exotic new versions.
Our test trio here shows exactly what is possible when you go in search of the ultimate supercar. All three vehicles are the result of manufacturers pushing the boundaries of performance, packaging and price – and all three prove that, when it comes to such exotic machinery, too much is never enough.
The Audi R8 V10, Aston Martin V12 Vantage and Corvette ZR1 are the most focused models in their respective ranges. With price tags of £99,580, £135,000 and £106,605, they combine serious performance with the kind of exclusivity that buyers who want to stand out from the crowd demand. The big question is, can these highly strung pedigree machines really justify their inflated prices?
Does more power and performance automatically guarantee you a place at the top of the supercar desirability league table, or would you be better off saving tens of thousands of pounds and sticking to the standard models?
We hit the road and the track in our German, British and American contenders to provide the answer...
Verdict
All three of these cars are hugely entertaining machines capable of savage performance and barely believable ground-covering ability. But there are key differences between them, in terms of both design philosophy and execution.
The Corvette ZR1 is a brutally fast model that serves up a driving experience which borders on the scary. It's compromised in this company by its left-hand-drive layout and agricultural controls. For that reason, the American model finishes in third position.
Separating the Aston Martin from the Audi R8 is a trickier task. Both are accomplished all-rounders which make it easy to exploit the performance on tap. Simple to drive and impeccably built, either is a terrific choice for owners who want to use their supercar daily.
But for us, the Audi ticks the most boxes. The four-wheel-drive chassis is utterly foolproof without feeling nannying, while the ride quality and refinement have to be experienced to be believed. Although the V12 Vantage is arguably the most accomplished Aston we've ever driven, the best all-rounder here is the German machine – and it costs £35,000-odd less.