New 5-Series vs rivals
In its first uk test, BMW's new 5-series meets the might of Mercedes and Audi. which is the executive class leader?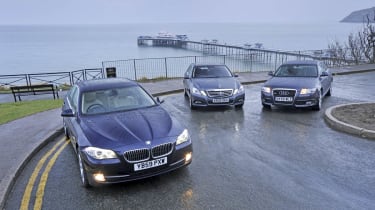 It's time for the latest BMW 5-Series to take on its German peers! The newcomer notched up a maiden victory against the Jaguar XF on the sun-kissed streets of Portugal's Atlantic coast in Issue 1,100, but how will it fare against its domestic rivals on the UK's rainswept roads? To find out, we've lined up the cream of the executive saloons.
Facing the BMW 530d SE are the Mercedes E350 CDI and Audi A6 3.0 TDI. All have smooth six-cylinder engines and premium badges. They also come with a vast array of hi-tech options, but which is the best all-rounder in Britain? With a price of £38,670, the 530d is more expensive than its rivals – and our test car does without BMW's trick Adaptive Drive chassis technology, which helped to make the launch model such a hit.
All three promise the kind of pace, comfort, luxury and economy which customers demand from cars at this end of the market, so it's sure to be a close battle. Join us as we find out which model deserves top billing...
Verdict
We knew the BMW was a class act, but it had to beat the segment's biggest sellers before it could confirm its place as our class favourite. In the event, it scored a comfortable victory. The 5-Series isn't revolutionary, yet it looks modern while its cabin provides a winning blend of functionality and style. And even without the firm's clever Adaptive Drive chassis tweaks, the 530d delivers driver enjoyment and comfort in equal measure. Yes, our SE model costs more than its rivals here, but the smooth 3.0-litre straight-six provides the cleanest and strongest performance, so it's worth the premium. Picking a runner-up was tougher than choosing a winner. The Audi is more expensive than the Mercedes, but comes better equipped. And while the A6 is beginning to show its age, there's no faulting either its build quality or image. In contrast, the E-Class rides better and its engine is more accomplished. While its cabin lacks the BMW's style, it's more spacious than the Audi andfaultlessly built – so the Merc pips the A6 to second spot.