Diesel coupé clash
Peugeot's new diesel RCZ coupé promises strong pace and economy on top of its good looks. Can it beat its VW rival?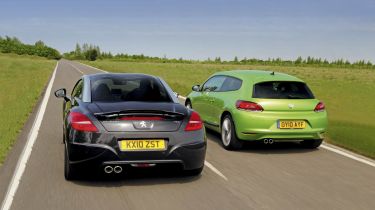 It has been a long time since diesel engines were reserved for the least exciting models in a manufacturer's line-up. Advances in technology mean powerful and refined oil-burners are now found in everything from hot hatches to luxury saloons. Even sleek and sophisticated coupés are being fitted with the ultra-efficient units.
Peugeot's stunning RCZ is a prime example. The two-door is the hottest property on the market right now, and looks as though it has driven straight off a designer's sketch pad. Petrol versions have already proven the equal of the best in the business, including the desirable Audi TT.
But how will it fare with the gutsy 2.0-litre HDi? Here we test the £24,550 GT flagship.
If you're considering a diesel coupé, then running costs and versatility are likely to share equal billing with style on your shopping list – and that's where the VW Scirocco scores. The distinctive three-door is a big favourite at Auto Express, blending engaging driving dynamics with surprising versatility and strong performance.
Fitted with the DSG gearbox, it weighs in at £24,775. So, which one of our contenders will disappear into the distance clutching the silverware?
Verdict
For many coupé buyers, only one thing matters: style. Practicality, performance and running costs will all take a back seat for a car that cuts a dash on the high street.
The Peugeot fits the bill if this is what you want. It's stunning, and makes a huge visual impact. Better still, it delivers strong performance and sharp driving dynamics.
And given the amount of kit included as standard, the RCZ represents decent value, too. But it's let down by the compromised cabin, stiff ride and gruff diesel engine.
That means the VW takes a narrow victory. In oil-burning form, it's very nearly a coupé without compromise. Stylish, fast and versatile, it promises to be a tantalising ownership prospect. Add a few options, and the price soon rises, but the beautifully built Scirocco feels as if it's worth every penny.
1. Volkswagen Scirocco TDI Verdicts don't get closer than this, with the Scirocco edging a narrow win. It can't match the RCZ's looks, but it still turns heads – especially in our test car's metallic finish. The sporty diesel engine delivers hot hatch pace, while the poised chassis serves up driving thrills. Plus, the car is surprisingly practical and solidly built.
2. Peugeot RCZ The RCZ represents a real return to form for Peugeot. In top-spec petrol trim, it's a match for the class leaders. Bold looks and agile handling make it a tempting proposition, but that appeal is dimmed when fitted with a diesel engine, as it's short on refinement and comfort.