Giulietta Cloverleaf vs Golf GTI
Alfa's sizzling new Giulietta Cloverleaf is setting pulses racing. Can it beat the VW Golf GTI?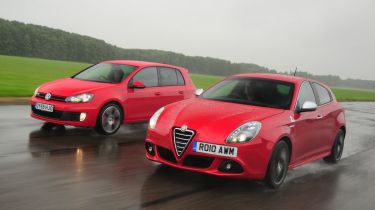 Storm clouds are gathering at Volkswagen. The Golf GTI has ruled the hot hatch roost since the MkV arrived in 2004, but its reign is being threatened by a sporty arrival from Alfa Romeo.
The new Giulietta wasn't good enough to beat the MkVI VW in standard trim, but the Italians' high-performance cars have a fine reputation – and the hot Cloverleaf promises to give the GTI a run for its money.
Its intentions are clear from the outset, as the flagship of the Giulietta line-up costs £24,495. That puts it in direct competition with our favourite hot hatch of them all. Alfa bosses claim the new turbocharged 231bhp engine and high spec justifies the comparison – and the car comes with the kind of looks you expect from the brand.
The less powerful Golf GTI doesn't turn as many heads, but it's still a class act – and has an unbeaten road test record. Can Alfa pull off one of the shocks of the year and unseat the mighty Golf GTI as hot hatch champ, or will the VW leave the Giulietta floundering in its wake?
Verdict
Despite Alfa's bold intentions with the Giulietta Cloverleaf, the Golf GTI's hot hatch crown is safe. As we've come to expect, the newcomer's engine is a real gem; the longer you spend with the car, though, the more the rest of its initial gloss begins to fade.
It's fun for a short drive, but age-old complaints about the driving position and interior quality take the edge off your enjoyment. The all-conquering GTI is still the model you'd rather own.
For its part, the VW is an enormously talented car. The engine is less powerful on paper, but it never feels outpaced. The suspension deals with everything you can throw at it, and the interior is in another league to its rival. While it's subtle and understated, the Golf is head and shoulders above the hot Giulietta.
1. Volkswagen Golf GTI The GTI is the longest-running hot hatch for good reason. Volkswagen knows exactly what it takes to top the class. The legendary Golf has made the sector its own, so while other cars go faster, few offer such a broad spread of talents. Its cabin rates comparison with models from the sector above, and its image is second-to-none.
2. Alfa Giulietta Cloverleaf Stylish Giulietta looks the part, but it lacks the staying power to take on the very best the class has to offer. Despite a searing engine, the bold pricing counts against the Alfa here. It's also hard to overlook the flawed DNA system and compromised driving position.