Alfa Romeo Giulietta Sprint review
Sporty Alfa Romeo Giulietta Sprint model aims to add substance to hatchback's style
Enjoyable to drive and good to look at, the Sprint may finally signal the start of Alfa's long-awaited renaissance. Good as it is, though, it's still not perfect; the footwell is cramped and the material quality inside isn't as good as most. It's a bit too late in the Giulietta's life to make any real impact, but if you want a new Alfa hatch then this is the one to have.
Sixty years ago Alfa built its first Giulietta, and in celebration it's added a Sprint model to its existing line-up.
In Europe that badge encompasses the entire six-strong engine range, but here in the UK the car is offered with only one. Significantly, it's the new 1.4-litre TB MultiAir turbo, giving the Giulietta 148bhp and 250Nm of torque. Think warm hatch, then, rather than hot.
Unsurprisingly there's a visual makeover, too. The Sprint badges on the front wings are the most obvious addition, but the styling changes also include gorgeous 17-inch five-hole alloy wheels, black window surrounds, dark-tinted glass and a 'sports' rear bumper incorporating a diffuser-style lower element. Dark finishing around the grille and on the mirror caps and door handles complete the external changes, although you'll have to be a committed Alfa fan to spot them on the street.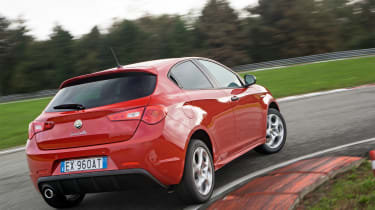 Inside, the Alcantara and cloth seats come with Sprint logos, and there are sports instruments plus a leather-wrapped and red-stitched steering wheel and gearstick gaiter.
The carbon-effect dash is new, too. Its finish isn't as neat as some rivals', though, and the reflections it creates in the screen are an unnecessary distraction. All this is forgivable, however, as the Sprint proves rather an entertaining diversion.
The 1.4-litre revs with enthusiasm, although it's obviously turbocharged thanks to its low-rev torque delivery. There's a slight increase in tempo from 2,300rpm, but otherwise it's linear and eager, taking the car from 0-62mph in 8.2 seconds. It sounds good, too, with a credible, sporting note that encourages you to use its entire rev range.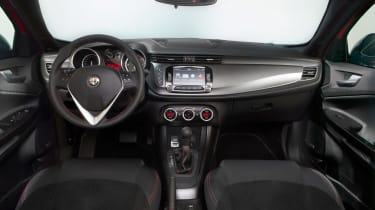 The engine's eagerness is matched by an accomplished chassis. It even rides well, despite those 17-inch alloys. Add a quick, decisive, manual shift and the Sprint is a real sweet spot in the Alfa range – and much more interesting than anything else at the same price point.
It's pretty, too, but then that's always been true of Alfas. Only with the Sprint do those looks come with real substance. It all gives the Giulietta a well needed boost. Indeed, if you're bored with the VW Golf and Ford Focus, then this might just be the answer. Finally.