Alfa Romeo Giulietta Quadrifoglio Verde
The Alfa Romeo Giulietta Cloverleaf may sound and look good, but it's far from a proper hot hatch
The Alfa Romeo Giulietta Quadrifoglio Verde Cloverleaf is among the prettiest of hot hatchbacks and sounds fruity too, but that's where its class-leading qualities end. Expensive, numb to drive and happy only on the smoothest of roads, we say roll on the new era of rear-drive Alfas instead.
No matter how many times Alfa Romeo disappoints us, we can't help ourselves wanting it to take on the world and beat it. Alfa Romeo is not a car brand, it's a religion, so can a new Giulietta Quadrifloglio Verde (Italian for cloverleaf) hot hatch with genuine supercar pedigree really match the Volkswagen Golf GTI and Ford Focus ST?
The supercar link lives under the bonnet where you'll discover the updated 1.75-litre, turbo four-cylinder engine is lifted from the Alfa Romeo 4C carbon fibre supercar. It develops a Golf GTI-busting 237bhp (the Volkswagen has 198bhp in standard form), which arrives at the front wheels courtesy of the 4C's six-speed dual-clutch gearbox. The 4C's rorty exhaust bark has been slightly toned down, but the QV still sounds special, with a naughty engine note supposedly tuned to sound like great Alfas from the Sixties.
Although Alfa might prefer you not know this, this refreshed Giulietta QV is only two bhp up on the car it replaces and has the same 340Nm torque output. However, the new all-aluminium engine is 22kg lighter than old one, and thanks to direct injection it's more efficient, too. Alfa claims 40.3mpg (up from 37.2mpg), while CO2 output is down from 177g/km to 162g/km.
On paper it's faster than the old car, and it feels it. Thanks to a particularly smooth launch control system, it'll hit 62mph in 6.0 seconds, eight tenths faster than before, and runs all the way to 151mph.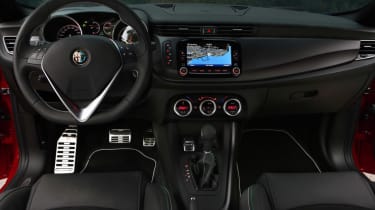 You can't get a manual gearbox in the hot Giulietta QV any more, but that's no bad thing because it was nothing special. In fact, it was notchy and the clutch pedal was sprung like a trampoline. Mind you, the dual-clutch affair isn't as accomplished as the DSG box found in a Golf GTI or Seat Leon Cupra. That's even less forgivable when you note that the QV starts at £28,120: right in five-door SEAT Leon Cupra and Volkswagen Golf GTI territory and not far off Audi S3 money.
Even in Dynamic mode the changes are slurred slightly - instead of banging home like machine-gun fire as in the Leon or Golf. At more sociable speeds, the transmission can also be caught out hesitating between cog-swaps. Intervene with the plastic paddles and you'll up-change twice by mistake.
Where the QV really comes unstuck though is the chassis. It's much happier being a fast everyday car than a genuinely exciting hot hatchback. It struggles with rough surfaces, getting alarming bumpy on some of our Italian road test routes and torque-steering mildly under hard acceleration.
In quick direction changes it's the electronic differential up front does a poor impressions of a proper limited-slip diff, ultimately limiting cornering speeds and despite the lightweight engine, the car feels heavier than its claimed 1320kg when you up the pace.
It all adds up to a dissatisfying hot hatch that sorely lacks feedback and interaction, which means the QV doesn't live up to its shapely body, nor the heritage of that four-leaved clover badge.